Bangor pier assault: Cora Campbell granted bail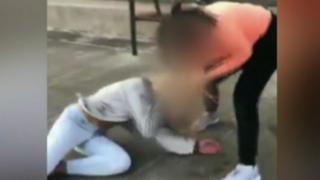 A woman accused of attacking a girl on Bangor pier and leaving her with serious head and facial injuries has been granted bail.
Cora Campbell, 18, of English Street, Downpatrick, has been charged with causing grievous bodily harm (GBH).
She admits assault occasioning actual bodily harm but denies causing GBH.
Footage of the incident last Friday has been widely shared on social media. A 16-year-old girl and a 17-year-old boy have also been charged.
The 16-year-old girl's bail hearing was adjourned until next week.
The 17-year-old boy remains in custody and police have questioned and bailed a fourth individual.
A lawyer for Ms Campbell told the High Court in Belfast that she was "ashamed" and "not proud" of her involvement.
He said she was an "intelligent, articulate woman... who has turned her life around in the last year".
The court was told Ms Campbell "didn't start the fight but ended it".
It also heard that she called the police on Sunday to tell them she was in the video and that they may want to speak to her.
Bail objections
The prosecution told the High Court that the 16-year-old girl, who is also charged with GBH, had lured the victim to Bangor Marina.
The judge noted that the court was previously told that police believed Ms Campbell had lured the victim.
The prosecution said they stand by their assertion that Ms Campbell was the instigator.
Both Ms Campbell and the 16-year-old are said to have admitted their involvement but are insistent "not much harm was caused".
The court heard that Ms Campbell and the injured party both have criminal records.
The prosecution objected to bail on the grounds of the potential for reoffending, the risk that she will fail to appear in court and a lack of a suitable address.
But, the judge granted Ms Campbell bail to an address in Belfast on a surety of £900 and imposed a curfew.
She is also not allowed a mobile phone, cannot consume alcohol and is to have no contact with the victim or her co-accused.