Newspaper review: Rugby ding-dong & murderer sentenced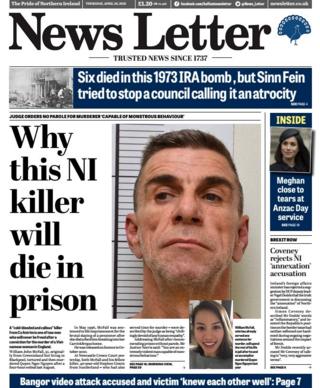 There is little similarity between this morning's papers, with all the dailies going for wildly different leads.
It's handbags at dawn on the Belfast Telegraph, with a rugby ding-dong between a former Ireland captain and an Ulster player.
Brian O'Driscoll described Ulster as a "bit of a basket case" in response to recent issues facing the province.
He said players could be reluctant to move to Belfast if they are not challenging for titles.
The current golden boy of Ulster rugby, Jacob Stockdale, isn't taking it lying down.
The paper reports that the Ireland winger said it was a "ridiculous" claim.
"I think he could probably count on his hands how many times he has been to Ulster Rugby in the last five years so I think the comments are unfair."
Stockdale 1, BOD, 0.
The News Letter reports that the current Sinn Féin president has been accused of a "lack of sincerity," after using the term Londonderry on a recent visit to the city.
Mary Lou McDonald was speaking after meeting Rev David Latimer and his congregation on Monday.
She said: "We have had an engagement with young people with interests across Derry, or Londonderry, and it has been a really wonderful conversation and one that we need to build on".
However, the former DUP MLA, Nelson McCausland told BBC's Talkback programme she was being "disingenuous," by using the term.
Mr McCausland said despite a recent "charm offensive" from Sinn Féin, situations such as the party's "defence of McCreesh Park in Newry or what happened with Barry McElduff" showed a "lack of sincerity" about "this talk of unionist reconciliation and engagement".
A horlicks has been made of new road marking in Belfast, says a Belfast City councillor.
'Very misleading'
The Belfast Telegraph reports that Jim Rodgers has received several complaints after Oxford Street in the city centre was modified at the weekend.
Mr Rodgers said a new road marking to direct drivers towards the city centre was confusing.
"I don't know how anybody could have made that mistake. It's very misleading," he told the paper.
Northern Ireland has won awards for its produce all over the world.
Now, The Irish News reports, it seems it produces some impressive chefs as well.
Clare Smyth, from Bushmills in County Antrim, was the first and only female chef in the UK to hold three Michelin stars.
Now she has been voted the best female chef in the world.
Ms Smyth said it was an "absolute honour" to win the award.
Good job chef.