Ex-GAA player Tasker and McCooey guilty in kidnapping case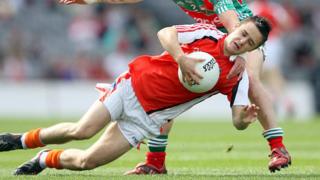 Two men, one of them a former GAA player for County Armagh, have been found guilty of kidnapping, robbing and threatening to kill a taxi driver.
Ex-player, Robert Edward Tasker, and co-accused, Antion Eugene James McCooey, were convicted by a majority verdict on each of the charges.
The pair live at separate addresses in St Patrick's Park, Cullyhanna.
The trial heard Tasker put a knife to the victim's throat during the robbery in the early hours of 29 November 2016.
'Stabbing motions'
Newry Crown Court had previously heard that the taxi driver picked up a fare which had been booked from a Chinese restaurant in Dundalk, County Louth.
In the taxi, 26-year-old Tasker, who is well known in GAA circles, began speaking in highly-sexualised terms from the back seat.
The driver told McCooey that he felt uncomfortable about this - at which point the mood changed.
Tasker took out a knife and put it to the driver's neck while McCooey made stabbing motions with a screwdriver and demanded money.
The taxi driver handed over 120 euro (£105) in takings while still driving.
The victim had told the trial he thought he was going to die during the incident.
Tasker and McCooey then asked him to bring the car into a church car park on the Tullynaval Road, outside Cullyhanna.
However, the driver stopped the car on the road and as another car passed, the two men got out and walked away.
The Dundalk-based taxi driver fled and the incident was reported to Gardaí (Irish police) who worked with the Police Service of Northern Ireland (PSNI) to bring the men to court.
The two will be sentenced on 18 June, but owing to what the judge called a very real flight risk, both will remain in custody until that date.