Bangor pier assault 'sustained and vicious'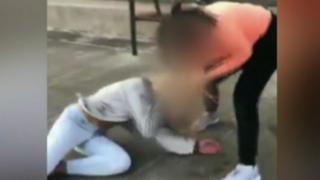 A 16-year-old girl was left with serious head and facial injuries on Bangor pier as a result of a "sustained and vicious assault", a court has heard.
Footage of the incident was widely shared on social media.
Cora Campbell, 18, of English Street, Downpatrick, has been charged with causing grievous bodily harm (GBH) after last Friday's attack.
She admits assault occasioning actual bodily harm, but denies causing GBH.
Ms Campbell remained in custody after the court adjourned.
Her bail application will be heard at a later date.
Two other teenagers, a 16-year-old girl and a 17-year-old boy, also remain in custody.
A fourth person has been interviewed and bailed.
'Red mist'
The High Court in Belfast heard that police believe Ms Campbell lured the victim to Bangor Marina before she and another of the defendants confronted her.
Ms Campbell is said to have asked the victim: "Do you wanna go, big girl?"
The court was told the victim gave an account of the assault, and felt at one point as if she was choking when a male poured alcohol over her face.
The victim has since had an X-ray and CT scan at the Ulster Hospital, and did not suffer any fractures.
The court was told Ms Campbell said she had consumed vodka on the evening of the assault and saw "a red mist".
She has admitted to punching, kicking and slamming the victim's head off the ground, but believes she did not "cause a lot of damage".
The court was told the police believe she is the main instigator in the case.
Defence for Cora Campbell told the court: "These people know each other very well, they've been in fights many times."
The court was also told the victim has "a substantial criminal record".