Irish border June deadline 'artificial' says David Davis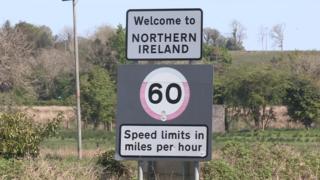 Pressure to make progress on the Irish border before an EU summit in June is an "artificial deadline," the Brexit secretary has suggested.
David Davis was giving evidence to the House of Commons Brexit committee.
Earlier this month, Irish Foreign Minister Simon Coveney warned there will be "difficulties" if there has not been substantial progress by June.
Mr Coveney said that the Irish government was "putting down a marker" on the issue.
Speaking in Londonderry on Wednesday, the foreign minister said there was "nothing artificial about the commitments that have been made on dealing with the border issue comprehensively".
He said the Irish government was not asking for everything to be finalised by June, but it did expect to see significant progress.
EU leaders are due to assess progress on the border issue when they meet at the end of June.
Mr Davis said: "We're in the middle of a negotiation.
"One of the things that happens in negotiations is people try to set up deadlines, sometimes artificial deadlines, to put pressure on one element of the negotiation which they think is in their favour.
"We've seen a little bit of that."
Mr Davis also referred to comments from Taoiseach (Irish Prime Minister) Leo Varadkar who said he "would rather have the right deal in October than any deal in June".
The Brexit secretary also rejected reports that the European Commission has completely rejected the UK's plans for avoiding customs checks at the Irish border when the UK leaves the customs union.
Last week, the Daily Telegraph reported that the UK's plans had been subject to a "systematic and forensic annihilation" in a meeting with EU negotiators.
Mr Davis said: "They have criticised various elements of each of the options... we will go back and address those, that's what a negotiation is for."
He told the committee that the UK was still working on its own wording for the border "backstop" option.
'Reserve parachute'
The UK has accepted the need for a backstop to be written into the Brexit withdrawal agreement, in case the border issue cannot be solved in the context of a wider deal.
In February, the EU proposed a backstop which would mean Northern Ireland staying in the customs union and much of the single market.
That was rejected by Theresa May who said no prime minister could ever sign up to it.
Mr Davis said: "We will come up with our own wording on it. We are working on that as we speak. Then we'll have an argument about it, I'm sure."
He also reiterated his belief that a final Brexit agreement will avoid a hard border describing the backstop as "a reserve parachute".