NI fishing industry 'facing EU threat'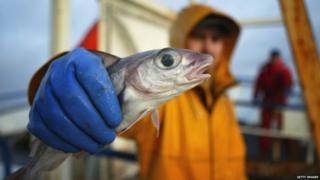 Representatives of Northern Ireland's fishing industry have told a House of Commons committee they feel they are being "punished" for voting for Brexit.
Alan McCulla and Harry Wick told the Northern Ireland Affairs Committee that the threat to the industry here came from politicians in Europe.
The pair head up Northern Ireland's two main fishing co-operatives.
They told the committee that 92% of fishermen in Northern Ireland had voted to leave the EU.
Three hundred and fourteen boats are licensed in Northern Ireland ports.
Mr McCulla said customers in Europe still wanted to buy fish and shellfish caught by Northern Ireland fishermen because of its quality.
"The threat comes not from customers but from politicians in the EU who want to punish the UK and specifically UK fishermen for the decision that was taken about two years ago."
The committee was told that the December 2018 Fisheries Council meeting would be the last at which the UK would have any say over decisions taken by the EU.
Mr McCulla said he was concerned about how much influence the UK would have over binding quota levels and other regulations that might be imposed during the transition period following Brexit
Mr Wick said the "fragile" recovery of the Northern Ireland fishing industry could be undermined during this period leading to a reduction in catch capacity, which in turn could impact future fishing deals.
The committee was also told that despite "platitudes" over a desire for no hard border on the island, the Irish authorities had already imposed one in the Irish Sea.
Boats banned
Northern Ireland fishing boats have been banned from the coastal waters of the Irish Republic after the collapse of a gentleman's agreement over reciprocal access.
The so called Voisinage Agreement covered access between 0-6 miles.
Mr McCulla told the committee that up to 20 boats based in Kilkeel, County Down, had been affected.
The agreement fell apart after a challenge at the Irish supreme court in Dublin.
Brexit negotiations
Attempts by the Irish government to fix the problem using legislation have now stalled.
Mr McCulla said the issue had become caught up in wider Brexit fisheries negotiations.
He said Irish-registered boats had not been barred from UK coastal waters in retaliation and his members found that difficult to understand.