UTV headquarters put on the market for £3.5m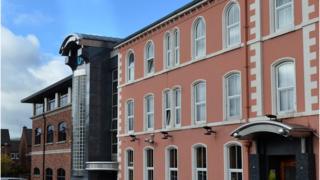 The headquarters of broadcaster UTV has been put up for sale at a price of £3.5m.
Havelock House, on Belfast's Ormeau Road, had been the home of UTV for almost 60 years.
The broadcaster is set to move to a new headquarters in the city's Harbour Estate later in 2018.
UTV's head of news and programmes, Terry Brennan, said the announcement was "another important milestone in our office move project".
"Havelock House has served us well for almost 60 years but we are looking forward to moving to the eighth floor of City Quays 2," he added.
Havelock House was converted to a television studio after being purchased by Ulster Television at a cost of £17,000.
Before the broadcaster went on air in 1959, the building was the former site of a hemstitching warehouse before becoming a billet for World War Two troops who provided cover for Belfast's bridges.