Maghaberry: Inmates asked to do work of prison staff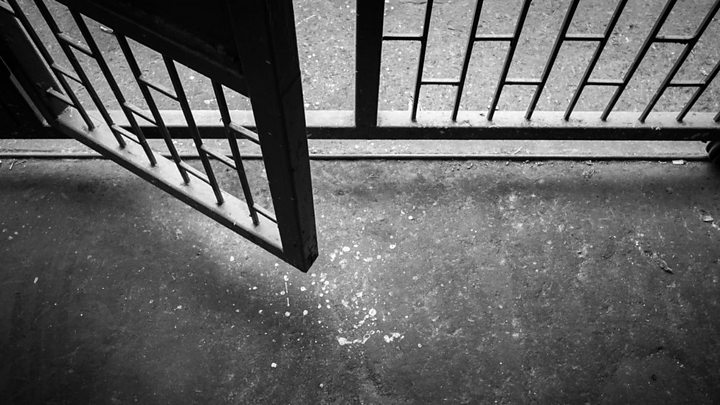 Prisoners had to help care for fellow inmates due to staff shortages at Northern Ireland's high-security prison, an ex prison officer has said.
Two former officers said staffing levels at Maghaberry made it impossible for them to protect vulnerable inmates.
One of the women said some prisoners had serious mental and physical health problems and "should not be in prison".
"This is not reflective of Maghaberry Prison today," a NI Prison Service spokesperson said.
"The BBC's decision to give credibility to two anonymous sources, on working practices which are alleged to have occurred two years ago is hugely disappointing.
"The staff at Maghaberry Prison carry out complex and challenging roles every day and indeed, are highly scrutinised by independent inspectors on a regular basis.
"Maghaberry Prison has a dedicated and professional workforce with a strong leadership team," a spokesperson added.
Vulnerable
The two women, who have now left their jobs, spoke anonymously to BBC News NI.
One, who we will call Gemma, said she often had to rely on other prisoners to help her look out for the most vulnerable men on her wing at the County Antrim jail.
"We had a prisoner who had the mental age of a young child, he was in his late 20s, but he would watch Power Rangers on repeat in his cell," Gemma said.
"He didn't know to go for exercise or food or to clean himself.
"He needed a full-time carer, so we actually had to ask other prisoners to try and help him because we just couldn't provide that level of care to one prisoner when there were 29 other men there."
---
Maghaberry: A prison in the spotlight
Maghaberry Prison, Northern Ireland's only high-security jail, opened in 1986 and has never been far from the headlines.
It was the site of dirty protests by dissident republican prisoners over full-body strip searches, as well as a riot by loyalist prisoners in 2004.
In recent years, the prison has been criticised for serious incidents in which prisoners have died or committed serious self-harm.
In 2015, the prison was labelled as the most dangerous prison ever inspected by England and Wales' chief prisons inspector.
The following year, a report revealed staff watched but failed to intervene when a mentally-ill prisoner, Sean Lynch, blinded himself.
Follow-up inspections in the last two years have indicated some "fragile" progress but concern remains about vulnerable prisoners.
---
Gemma worked at the prison when there was a number of suicides but claimed a lack of staff meant the correct care could not be given to prisoners who were suicidal or self harming.
"We did our best to get a chat with them every now and then, but at times things were missed," she said.
She also raised concerns about the amount of time prisoners were kept locked in their cells - claiming that it could sometimes be 23 hours a day for prisoners who did not work or undertake education.
Gemma said she began to get frightened by the levels of understaffing. She said during training she had been told there would be four or five members of staff to look after about 30 prisoners at any one time.
However, in reality, there could sometimes only be two, and that second person could be asked to deal with an incident in the prison. That left one prison officer by themselves.
"Sometimes I would be on my own on a wing and it would be total lockdown. I couldn't open the [cell] doors because it would be deemed too dangerous," she said.
'Cell covered in blood'
Gemma said she raised staff issues with the then minister for justice, Claire Sugden, in December 2016 and was told "there was just no money".
Ms Sugden told BBC News NI that "a lot of the issues faced by prison officers do come down to money".
She also said that when she was minister for justice she campaigned for some prisons to be rebuilt because new designs would mean a safer environment for officers and inmates.
Last year, the governor of Maghaberry Prison told BBC News NI his job would be much easier if Northern Ireland had a dedicated medical facility to treat inmates at risk.
He said prisons were not suitable for dealing with people with serious mental health problems.
Another former prison officer, who we have called Jane, said self harm was something she saw regularly while working at Maghaberry.
Jane, who worked in a different part of the jail, said prisoners who needed help often could not get it because staff were stretched to their limit dealing with fighting between inmates and attacks on officers.
Despite that, Jane said two women officers often worked with up to 30 male prisoners on their own, with little or no visibility of each other.
"There was not one day that I didn't see some form of self harm, right up to a suicide," she said.
"It's amazing how quickly you are desensitised - a cell completely covered in blood became normal."
Jane said that when there were enough staff on shift she had "a completely different kind of day".
She also said that the training she received before starting as a prison officer was "first class" but "it didn't match up to the job at the end of it".