Sinn Féin backs unionist farmer Ian Marshall for Senate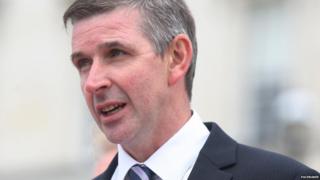 Sinn Féin has said it will back Ian Marshall, a unionist former president of the Ulster Farmers' Union, in this week's Irish Senate by-election.
Mr Marshall was nominated for the seat by Taoiseach Leo Varadkar in February.
The seat had been left vacant by the resignation of Labour Senator Denis Landy.
It was reported at the time that the taoiseach was keen to introduce a unionist perspective to discussion and debate in the Seanad (senate).
Mr Marshall, who owns a farm near Markethill, County Armagh, has also consistently opposed Brexit, insisting there was "no compelling argument" for the UK to leave the European Union and that Northern Ireland's farmers would be better served remaining inside the European Union.
In a statement on Tuesday, Sinn Féin leader Mary Lou McDonald announced that the party will support Mr Marshall's candidacy.
She said: "I have met with Ian on a number of occasions in recent weeks and I have been impressed by his views on Brexit and the potential impact Brexit will have on the island, north and south.
"I believe Ian will be a strong Independent voice in the Seanad; providing an anti-Brexit unionist perspective, which is a welcome addition to the political discourse surrounding the issue in the Oireachtas.
She added: "From his time as a farmer, as president of the Ulster Farmers' Union, and his current position at Queen's University, Ian is particularly qualified and experienced to advocate on behalf of farmers and the agri-sector; which faces massive challenges in the time ahead.
"Ian is a unionist. I am an Irish republican. As I have stated repeatedly, the Ireland I want to see is one where one can comfortably be Irish or British, both or neither.
"I believe Ian can bring a new and interesting voice to the discussion surrounding a 'new Ireland'."