Global group The Elders reveal Brexit fears for agreement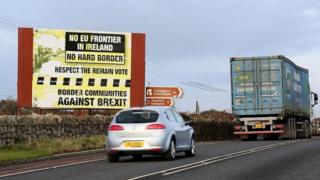 A group of senior world figures has expressed 'deep concern' about potential risks posed by Brexit to the Good Friday Agreement.
At their recent board meeting in London, The Elders hailed the 20th anniversary of the agreement.
They praised the inspiration it had given to others around the world trying to end bloody conflicts.
They warned that a hard border between Northern Ireland and the Republic would seriously undermine the agreement.
The Elders are chaired by Kofi Annan, the former United Nations secretary-general.
"The Good Friday Agreement has served Northern Ireland, the rest of the United Kingdom and the Republic of Ireland very well for the past 20 years," Mr Annan said.
"It was painstakingly achieved after complex negotiations and difficult compromises on all sides.
"Amid the wider political and economic uncertainty caused by Brexit, all stakeholders should place the preservation of peace and security as a high priority."
Who are the Elders?
The Elders are a group of senior world figures originally brought together by former South African president Nelson Mandela in 2007.
Members include Kofi Annan, another former UN secretary-general Ban Ki-moon, former Irish president Mary Robinson, former US president Jimmy Carter and Martti Ahtisaari, a Finnish politician and Nobel Peace Prize winner who was served as a member of the Independent International Commission on Decommissioning in Northern Ireland.
The Elders say they "represent an independent voice, not bound by the interests of any nation, government or institution".
"We are committed to promoting the shared interests of humanity, and the universal human rights we all share," they add..
The Elders noted the commitments by the UK and Irish governments and the European Union to avoid the imposition of a hard border in the event of the UK leaving the EU's single market and customs union after Brexit, and urged them to withstand any pressure to abandon this stance as negotiations continue.
Former Irish president Mary Robinson, who is also an Elder, said: "Peace in Northern Ireland was hard-won and needs to be protected.
"The Elders welcome the assertion by UK Prime Minister Theresa May of the paramountcy of the Good Friday Agreement, and the importance of ensuring that nothing should be done to allow the reimposition of a hard border.
"All governments and parties in all parts of the UK and Ireland must work to make this promise a reality."