Belfast: Queen's University opens new wireless lab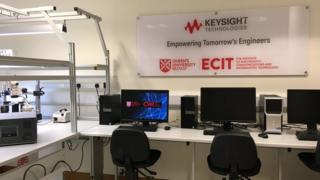 A new wireless research lab has opened its doors at Queen's University's School of Electronics, Computer Science and Information Technology (ECIT).
The Belfast facility on the Queen's Road is run by Keysight Technologies and Queen's University Belfast.
The lab will help over 200 researchers, students and engineers at ECIT work with businesses in a range of sectors.
The research addresses subjects like the roll-out of 5G, sensors on cars and mobile phone technology.
Dr Mark Pierpoint from Keysight Technologies said: "We are really keen to promote innovation in Northern Ireland, the work that they are doing here is world leading."