Supreme Court to hear NI woman's widow benefit case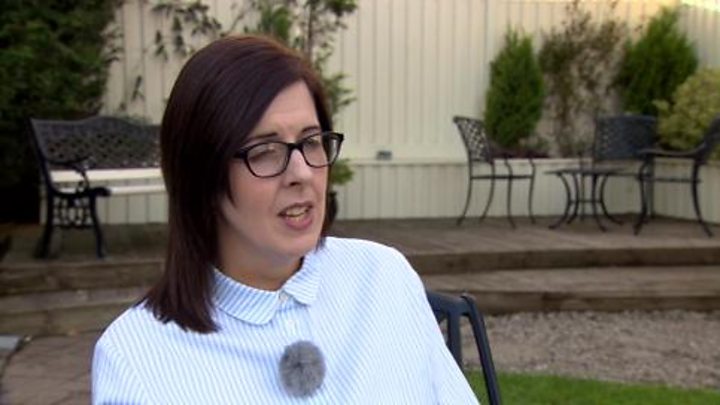 An unmarried mother from Northern Ireland who is fighting for access to a widowed parent's allowance is to have her case heard by the Supreme Court.
Siobhan McLaughlin lived with her partner John Adams for 23 years and they had four children together, but the couple were never married.
Mr Adams died in 2014.
After his death, the County Antrim woman challenged the rule that parents must have married to be entitled to a widowed parent's allowance.
Ms McLaughlin, from Armoy, won the original case but it was overturned by the Court of Appeal.
Senior appeal judges did not accept the argument that Ms McLaughlin had been discriminated against on the grounds of her marital status.
Next Monday, the Supreme Court will sit in Northern Ireland for the first time ever.
Ms McLaughlin's case is due to be the first one heard by the court.
Speaking to BBC News NI, she said that John was a widower when they met and that his wife had asked him to promise not to remarry after she died.
Sole provider
"We didn't see an issue, the commitment was the same," she said.
"When we had children they took his surname and his name is on the birth certificates. It was a family unit."
Ms McLaughlin said she felt "angry" when she learned her family would not qualify for the bereavement benefits.
She said: "My youngest was 10 when this happened, another 10-year-old in her class whose parents were married could get that benefit - but she couldn't."
It is estimated the family have lost out on thousands of pounds because Siobhan and John were not married or in a civil partnership before his death.
Ms McLaughlin is now the sole provider for her family and works two jobs as a special needs classroom assistant and cleaner.
She said the money provided by the widowed parent's allowance would have been useful to her family.
"It's little things like, 'Right, let's scoot down to the coast here and get an ice cream just to go and clear our heads. That's right I can't, I just don't have enough fuel in the car because I need it for work'," she said.
"I'm not looking for extravagance, it just would have made life slightly bearable at such a bad time for them."
Ms McLaughlin said she and her late partner believed that cohabiting brought them the same rights as marriage.
"If it hadn't been brought to my attention by Citizens Advice, there's no way I would have been any the wiser to this.
"This is 2018. I get why people marry, but I don't see if you don't marry, why you should be crucified for it, why it should go against you."
She added: "It's shallow if that would be your reason to marry, to be entitled to a benefit that really you should be getting anyway."
Cohabiting confusion
Ms McLaughlin's solicitor Laura Banks said the case could have UK-wide ramifications and that about 2,000 families across the UK lose out on this allowance every year.
"It's very important not only for Siobhan and her children but also for thousands of families throughout the UK because we know that 17% of parents in Northern Ireland are currently cohabiting rather than being married and the figure across the water in England is more than 20%."
She added that there was a "stubborn myth" that if cohabiting couples are together for a certain amount of time they have the same rights as married people.
"They (Siobhan and John) were accepted as a couple for the purposes of benefits - so they received the like of child tax credit, pension credit and housing benefit.
"So that contributes to the confusion. You can understand why people don't realise and you can understand why they are actually shocked when a parent dies and it's too late to do anything about it."
She added: "We would say it's very unfair - at a time of bereavement, at a time these children lost their dad, they had the double blow, really, of being turned away for support."
Meanwhile, for Siobhan McLaughlin, the case is not just about winning.
"Even if we don't win, it's made people more aware of it and somebody has to come behind me to fight this corner."
She added: "When I look at my children I think, 'how dare anyone treat them differently - they are as good as anybody else's children'.
"It's hard to think that a government is saying they're actually worth less, their bereavement is worth less - and that's not fair, it's not on."