Alsatian-type dog 'pounced' on man in Ballymena park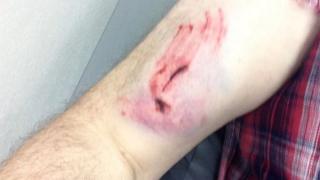 A man has been treated in hospital after being attacked by a dog in a park in Ballymena.
The victim told BBC News NI he was bitten in the arms and legs and that two men with the dog "did nothing to help me".
The police and Mid and East Antrim Borough Council are investigating the incident.
The attack occurred when the man was walking in the Ecos Centre at about 13:30 BST on Tuesday.
David, who did not want to give his second name, said he was approached by two men with two dogs.
"One was a black retriever and the other was a brown Alsatian," he said.
"The Alsatian ran up to me and started pouncing. I backed up into the hedge and it bit my wrist and then my leg, twice.
"The two men did nothing to help me, but eventually called the dog back and said only 'sorry mate'."
He said the two men then ran off after the incident.
David added: "A mother and her baby had just passed the men not long before and it could have been them.
"A child wouldn't stand a chance against that dog.
"I just want anyone who might have seen them to go to the police or the council.
"I would hate to think that people would become too afraid to walk around the Ecos centre but sadly there are parts that are just not safe, as I found out myself."
The police said they arrived at the scene after the report of the dog attack.
"Police attended and conducted checks, without success, of the immediate and surrounding area for two males who were reported to be with the dog at the time of the incident," they said.
"The dog warden also attended."
Mid and East Antrim Borough Council said that it had begun an investigation.
"Two males and two dogs, one a German Shepherd-type dog and the other a black retriever-type dog, are thought to have been involved in this alleged incident," they said
The council has appealed for information.