Anti-abortion graffiti attack on two Catholic churches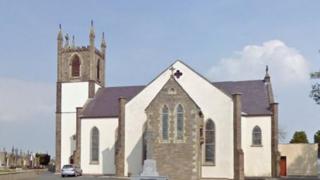 A Catholic church in Northern Ireland has been daubed with anti-abortion graffiti for the second time in 24 hours.
The latest attack happened at a church in Carrickmore, County Tyrone.
Several messages were painted on the walls of St Colmcille's, including one which said "only DUP speaks for Irish unborn".
The message references the Democratic Unionist Party's (DUP) anti-abortion stance.
A picture of the graffiti attack was published by the Ulster Herald newspaper.
The incident comes after a similar attack on St Patrick's Cathedral in Armagh.
"Save the 8th save Ireland" and "Sin (sic) Fein Irish baby killers speak up" were among the messages painted on the cathedral.
Sinn Féin condemned the incident in Carrickmore as a "sectarian hate crime".
"This disgraceful graffiti attack on Carrickmore Chapel is the second such attack on a church property in 24 hours," said Órfhlaith Begley.
"I have visited Carrickmore Chapel this morning - I have spoken to Father O'Neill and parishioners and people are incensed by this blatant sectarian vandalism."
Alliance Party member Stephen Donnelly - who is running against Ms Begley in the West Tyrone by-election along with Thomas Buchanan (DUP), Chris Smyth (UUP) and Daniel McCrossan (SDLP) - tweeted that the incident was a "vile attack aimed at her".
DUP MLA Thomas Buchanan said that "there are strong feelings among members of the community about Sinn Féin's policy on abortion, however that does not excuse anyone engaging in criminal damage".
"It is totally wrong and inappropriate to smear a place of worship, or any public building, with graffiti to make any sort of political point."
The police said it was investigating both attacks as reports of criminal damage. They said the Carrickmore incident took place between 21:40 BST on Monday and 08:05 on Tuesday morning and the Armagh incident took place between 23:00 on Sunday and 08:00 on Monday.
They have appealed for information.
A referendum on abortion is scheduled to be held in the Republic of Ireland on Friday 25 May.
The vote will decide on whether or not to repeal the Eighth Amendment of the Irish constitution, which upholds Ireland's strict abortion laws.
Sinn Féin are among the parties campaigning for a yes vote in the referendum.