Invest NI budget to be reduced by almost £3m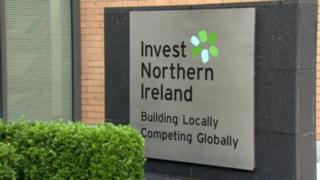 Invest NI's budget is being cut by almost £3m, or about 3% - significantly less than it had first feared.
The move is in response to financial pressure being felt at the Department for the Economy.
The department's allocation from the block grant is unchanged year-to-year.
Invest NI said: "While this is a good outcome, it is still a cut at a time when we need to accelerate some areas of our work."
The department is having to find £17m of savings.
Tourism budget cut
Other efficiencies are being found in a "reduced requirement for apprenticeships" and in the management of EU programmes.
Tourism NI, which is also funded through the department, is also getting £250,000 less than last year.
The Department for the Economy is getting £763m from the block grant for 2018-19.
Four Northern Ireland departments receive more - health, education, communities and justice.