NI weekly paper review: Escape artist trapped in red tape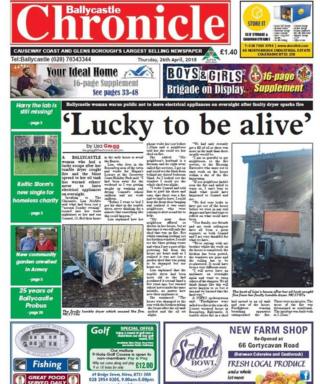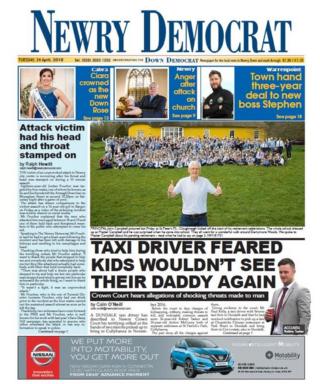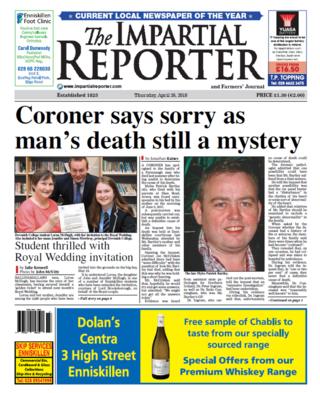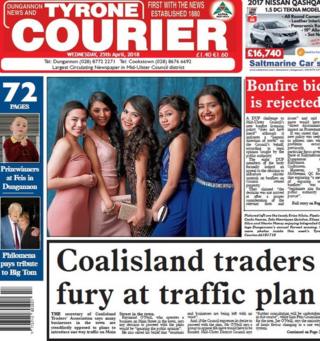 An Aghadowey magician's anger at having to cancel an escapology stunt in Portrush makes the front page of the Coleraine Times.
Rod Hogg had planned to escape from handcuffs inside a wooden box which was to be lowered into Portrush harbour from a crane on the May Day bank holiday.
But he blames "red tape" for the cancellation of the stunt which he had been working on for eight months.
"'Red tape' has won the day after every possible avenue trying to find a way to allow my stunt to happen was exhausted," Mr Hogg said.
"I have invested and sacrificed a huge part of my life to this.
"The past eight months have been spent in constant consultation with stunt specialists from all over the world, designing a spectacle that would have been one of the most spectacular this wee country would have ever seen."
The Ballycastle Chronicle has an interview with a woman who had a lucky escape after her tumble dryer caught fire, with the blaze spreading to her oil tank.
Lisa McAfee, from the Broombeg area of the town, has warned the public never to leave electrical appliances on overnight, following the incident.
Ms McAfee said she was drying her son's school uniform on 16 April when she was awoken by her phone in the early hours.
A neighbour told her that she could see her shed on fire.
"We feel very lucky to have got out of the house before we were in any real danger and have had time to reflect on what could have been," she said.
"We're staying with my brother whilst the work on the house is completed, the kitchen has been gutted, the windows are gone and the ceiling has to be re-plastered.
"It could have been a very different story."
The Newry Democrat highlights an unprovoked attack on an 18-year-old man in the city centre on its front page.
Jordan Poucher's throat and head were stamped on during the 10-minute assault which happened as he left a bar on Monaghan Street on Saturday, 21 April.
Bonfire row
He said he was targeted by four men during the attack and told the newspaper that he had been left with damage to his kidneys as well as swelling to his oesophagus and head.
"I want to thank the people that stopped to help me and everybody else who attempted to help me, but they [the attackers] actually had somebody with them that held everybody back," he said.
"There were people who were videoing it [the attack] so if anyone has anything at all contact myself or the police.
"I would definitely think twice before going out again and it's made a lot of people think about it."
There's a bonfire row on the front of the Tyrone Courier.
A DUP challenge to Mid-Ulster Council's new bonfire licensing policy "does not have merit" although it indicates a "general direction of travel" on the Council's behalf, according to a lawyer.
Eight DUP councillors lodged an appeal to the decision to introduce stricter controls on bonfires on Council owned property.
However, Tony McGleenan QC found that exploring "a means of ensuring safer bonfires " was a "legitimate aim for a public authority to pursue ".
'Ignoring public opinion'
From bonfire fires to one-way traffic, the paper also reports on Coalisland traders' "fury at traffic plans".
The paper reports that many businesses in the town are ardently opposed to proposals to introduce one-way traffic on Main Street in the town.
Local businessman Raymond O'Neill tells the paper that proceeding with the plans would be "ignoring public opinion".
He claims both residents and businesses are being "left with no voice".
However Sinn Féin councillor Joe O'Neill says the majority of locals are in favour of changing to a one-way system.
The Lurgan Mail leads with the headline '3,000 people get food parcels'.
It calls the figures, on emergency food supplies in the Upper Bann area "shocking" and "alarming".
It also reports that 1,028 of the parcels claimed over the past year were for children in the area.
Ulster Unionist Party MLA Doug Beattie told the Mail his constituency office gives out vouchers regularly.
"These are shocking figures which are compounded by the roll-out of universal credit.
"Anyone in our society could suffer illness, disability, family breakdown or the loss of a job and in doing so could find themselves in need of support in the form of benefits, but these benefits are not immediate and therefore many need to lean on food banks to get themselves through a crisis.
"No one in this day and age should be left hungry or destitute, therefore the present system is simply not sustainable."
Royal wedding
In the Impartial Reporter a teenager has become the "envy of all her classmates" having secured herself an invitation to next month's royal wedding.
Lorna McHugh and her mother Jennifer are among 2,640 people who have been invited to the big day on May 19.
The Enniskillen student told the paper it took some effort to convince her mum that the invitation was real.
"When I told my mum, she didn't believe me," she said.
"It was only when my teacher spoke to her that she realised it was real."
Lorna volunteers at Ballinamallard United Football Club as a coach and also teaches at a local Sunday School.
She has also been involved in a number of fundraising efforts.
Also in the paper are three other girls who are making a bid to help others.
Sophie, Annie and Cassie Loughran, from Maguiresbridge, are all planning to cut their long hair and donate it to the Little Princess Trust.
The sisters will have their hair cut on Father's Day in memory of their own dad, who died in a motorcycle accident in September 2009.