Edward Gibson: Woman cleared of weapons charges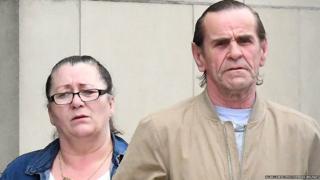 A 59-year-old woman has been cleared of firearms offences linked to the 2014 murder of Belfast man Edward Gibson.
Margaret Goodman walked free from Belfast Crown Court after a prosecuting barrister offered no evidence.
It has also emerged her husband Malachy was acquitted of murdering Edward Gibson at the same court last year.
Mr Gibson was shot in the thigh and stomach in an alley in the Divis area of west Belfast on 24 October, 2014.
The 28-year old was taken to hospital but died from his injuries the following day.
For the first time it can be reported that Malachy Goodman, 61, had been due to stand trial for the murder but was acquitted last May after a jury was directed to return not guilty verdicts due to identification issues.
Mrs Goodman, of Ballymurphy Parade, Belfast, had been charged with possessing a firearm and ammunition with intent to endanger life.
The mother of seven and grandmother of 20 also denied the charges and was due to face trial in Belfast.
But after the jury was sworn in at her trial, prosecuting QC David McDowell told them: "On the evidence available, we have come to the conclusion there is no reasonable prospect of a conviction, and we offer no evidence in respect of all three counts."
Judge Geoffrey Miller told the court that in such circumstances, defendants were "entitled to have their names cleared by the jury", and directed the foreman to return not-guilty verdicts against Mrs Goodman.
Judge Miller then told Mrs Goodman she was free to leave the dock, and she left the court with her husband.