Belfast International Airport sold to French firm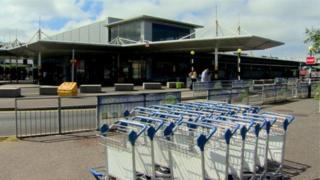 Belfast International Airport is being bought by the French infrastructure firm Vinci.
It is part of a wider deal in which Vinci is acquiring nine airports from OMERS Infrastructure.
Vinci said the move would help strengthen its presence in Europe, where it already operates 12 airports in France and 10 in Portugal.
The price has not been disclosed and the deal is expected to close later this year.
The airport has been owned by OMERS since 2013, via its shareholding in the US company Airports Worldwide.
Juan Camargo, director at OMERS Infrastructure, said they had worked with management teams across the group to "optimise performance and build strong relationships with airline partners and other stakeholders".
Second largest
"We are grateful to Airports Worldwide management for their efforts and wish them continued success," he added.
Belfast International is the second largest airport on the island of Ireland and handled almost 6m passengers in 2017.
The airport can trace its aviation history back to World War One, when Aldergrove in County Antrim was selected as a military training base for the Royal Flying Corps.
Northern Ireland's first regular civil aviation service began at Aldergrove in 1933.
Fifty years later, the facility was officially branded as Belfast International Airport.
It was privatised in July 1994.