New voluntary farm inspection scheme trialled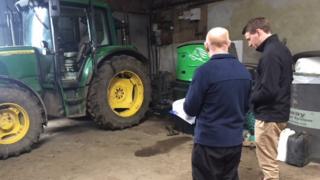 Farmers who volunteer for an environmental audit will receive fewer inspections under a pilot project launched on Tuesday.
The scheme is being run by the Department of Agriculture, Environment and Rural Affairs (DAERA).
DAERA said it was 'not going soft' on farmers and the idea was to deliver better environmental outcomes.
The first audit took place on the farm of retiring Ulster Farmers' Union (UFU) president Barclay Bell.
An inspector checked oil tanks, run-off from manure storage, chemical and medicine records and water quality in farm drains.
One per cent of farms are picked for mandatory inspection to ensure they comply with environmental rules.
Any breach can lead to big cuts in farmers' subsidy payments.
There are about 24,000 farms in Northern Ireland.
Fix minor problems
The voluntary audit will instead allow inspectors to offer advice on fixing minor problems without attracting penalties.
Any major problems will be reported for formal inspection as normal.
Farms which opt for the voluntary audit will be considered a lower risk for environmental breach.
That means they are less likely to be picked for mandatory inspection under the department's risk-based assessment.
The head of the Northern Ireland Environment Agency (NIEA), David Small, said he understood some environment groups would be "critical and suspicious" and accuse the agency of "cosying up to the industry".
But he said the pilot would provide a chance to have an "early warning system" for issues before they became major problems.
Mr Bell said he knew some farmers would be "nervous" about inviting inspectors on to their farms.
Changing relationship
He said if the pilot attracted sufficient support it could see a move away from the adversarial relationship between farmers and inspectors.
The department is trying to change its approach to inspection and regulation.
It wants to encourage best practice among farmers, allowing it to focus its inspection regime on persistent and serious offenders.
It is also trying to streamline inspections so that farms receive fewer visits every year.