Report recommends NI abortion law change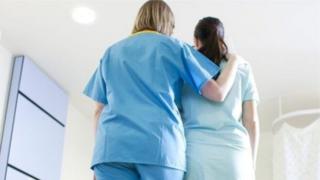 A working group has recommended a change to Northern Ireland's laws to allow abortion in cases of fatal foetal abnormality.
The change would provide for termination of pregnancy "where the abnormality is of such a nature as to be likely to cause death before, during or in the early period after birth".
The report was commissioned in 2016 by the then health and justice ministers.
Unlike other parts of the UK, the 1967 Abortion Act does not extend to NI.
The report will be seen by many as controversial, says BBC News NI health correspondent Marie-Louise Connolly.
Currently, a termination is only permitted in Northern Ireland if a woman's life is at risk or if there is a risk of permanent and serious damage to her mental or physical health.
Rape, incest and fatal foetal abnormalities are not circumstances in which an abortion can be performed legally.
A fatal foetal abnormality diagnosis means doctors believe an unborn child has a terminal condition and will die in the womb or shortly after birth.
However, anti-abortion campaigners argue that doctors cannot accurately predict death, saying that terminally-ill babies "can and do defy the odds".
Matter for ministers?
The working group was first proposed in February 2016, when the Northern Ireland Assembly voted against allowing women to terminate pregnancies under such circumstances.
The commissioned report was expected to inform the Stormont Executive's policy, but Northern Ireland has been without a devolved government since power sharing broke down in January 2017.
Usually, publication of such reports would be a matter for ministers but, in the absence of a government, the departments of justice and health have decided to release the report "on public interest grounds".
Timeline of NI abortion law challenges
The report states that fatal foetal abnormality is "an acceptable description of a diagnosis made, usually around 20 weeks gestation, of a foetal abnormality which will result in death in utero, at birth or shortly after birth".
Among the key findings of the report are:
If a fatal foetal abnormality is diagnosed, it should be accepted that continuing such a pregnancy "poses a substantial risk of serious, adverse effect on a women's health and wellbeing"
Improvements can be made to the care and support of women diagnosed with a fatal foetal abnormality
Health professionals have said that retaining current laws would "place an unacceptable burden on women's health and wellbeing"
The report added that "one of the most compelling cases for change" came from medical staff who said current laws "prevents them from fully meeting their duty of care to all women in this situation".
"In summary, health professionals considered the current situation to be professionally untenable," it said.
The working group that compiled the report was chaired by Northern Ireland's chief medical officer Michael McBride and included Charlotte McArdle, the chief nursing officer and Seán Holland, the chief social services officer.
A Supreme Court judgment considering whether abortion law in Northern Ireland is incompatible with international human rights is expected later this year.
The personal experience of Sarah Ewart, who travelled to England in 2013 for a termination after doctors said her unborn child had no prospect of surviving outside the womb, was central to putting Northern Ireland's abortion laws before the courts.
Her mother, June Christie, welcomed the report and said her family did not want any woman to go through the same situation as her daughter.
"Like many other families who've been in touch since Sarah has been so vocal about it, it's not a position that we wanted to be in.
"Until this (fatal foetal abnormality) landed at our door, we didn't give it a second thought and I just wouldn't want any other young mother to be in this position ever."
'Misleading and offensive'
However, anti-abortion group Life Northern Ireland said it "rejects" the term fatal foetal abnormality.
Its spokeswoman Marion Woods described it as "inherently misleading and offensive to the many families who, with support, have risen to the challenge and cared for their baby with life-limiting conditions".
She added that "babies who are deemed by doctors to be 'likely to die' can, and do, defy the odds and may outlive the diagnosed life expectancy".
Referring to the report's mention of a fatal diagnosis at 20 weeks gestation - Ms Woods said at that stage of pregnancy, unborn babies "are capable of moving, kicking, hearing and responding to sound and exhibiting a whole range of human behaviours".
"We cannot ignore the human element in this debate," she added.