Two rescued from lough after dredger sinks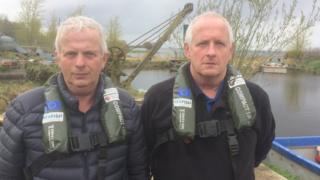 Two men have been rescued from Lough Neagh after a dredging vessel sank on Monday morning.
The Coastguard received a distress call from the vessel shortly after 10:00 BST, saying it was taking on water and sinking south of Skady Tower.
Lough Neagh Coastguard and Kinnego and Ardboe lifeboats were sent to the scene.
The vessel sank and two men were rescued from the water by a sand dredger and two fishermen.
They were then transferred to Ardboe lifeboat, which took them to Ballyronan Marina, where an ambulance was waiting.
The men, one of whom was suffering from hypothermia, were taken to Antrim Area Hospital. Both have been discharged.
'Any person would do it'
The two fishermen who took part in the rescue are brothers John James and Michael Paul Quinn.
John James Quinn said one of the men in the water's lifejacket was slipping off.
"Me and my brother were sort of able to get a rope under his arms to hold him to the side of the boat until the lifeboat arrived," he said.
"Any person would do it. I don't want to see it again, I hope it never happens again and I hope it sent a message out to anybody that's out in the water - the dangers of the water."
Mr Quinn said he and his brother had attended a life-saving course a few weeks ago.
"But you don't understand until it happens what it's like," he said.
"People can tell you how it's going to be, but until it happens you don't understand the distress the person in the water is in and the distress that you are in trying to help the person in the water."