Lorry driver jailed for people smuggling after going on the run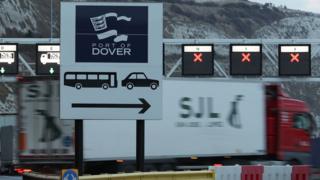 A people smuggler from Northern Ireland, who went on the run in a bid to escape justice, has been jailed for more than two years.
Terence McVarnock, from Tullynewbank Road, Glenavy, pleaded guilty to facilitating illegal immigration at a court in England on Monday.
The 50-year-old lorry driver was stopped by Border Force officers in Dover in July 2015.
The officers found two adults and two children hidden in the lorry.
The people, who were Albanian nationals, were found in cramped conditions after the lorry arrived on a ferry from Calais.
McVarnock was sentenced to 28 months in prison at Canterbury Crown Court.
Paul Morgan, director of Border Force South East and Europe, said: "People smugglers care little about the conditions in which they transport their human cargo, often putting the lives of others at risk."
'Does not use banks'
On 28 June 2015, McVarnock was taken to Folkestone Police Station where he denied any knowledge of the people hidden in his lorry.
A further search of the vehicle revealed £2,800 hidden behind the dashboard stereo.
McVarnock claimed this was his life savings as he does not use banks.
He was subsequently charged with assisting unlawful immigration into the UK but failed to appear at Canterbury Crown Court the following November and a bench warrant was issued for his arrest.
McVarnock changed his name by deed poll and changed cars, as well as frequently moving house after he absconded.
Extreme measures
Immigration Enforcement's Criminal and Financial Investigation (CFI) team located him at an address in Glenavy. It was here that the PSNI arrested him on 18 April.
Dave Magrath, from the CFI team said: "Although McVarnock took extreme measures to avoid facing up to his crimes, in the end, the law caught up with him and he's paying the price with his liberty.
"We work closely with Border Force colleagues and law enforcement, such as the PSNI, to rigorously investigate allegations of immigration-related criminality and this case should serve as a warning to anyone tempted to get involved with this kind of offending.
"We will catch you, however long this takes, and put you before the courts."