Teenager Marian Brown 'most likely shot dead by soldier'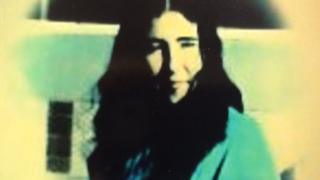 It is "more likely than not" that a soldier caused the death of a pregnant teenager shot in Belfast, a coroner has said.
Seventeen-year-old Marian Brown died after being struck during an exchange of fire on Roden Street in June 1972.
She was saying goodnight to her boyfriend, Thomas Corrigan.
The coroner concluded she was more likely than not struck by a bullet fired from a soldier's semi-automatic rifle.
Judge David McFarland also concluded that the patrol of 3 Royal Anglian Regiment was returning fire to a gunman, most likely firing an automatic weapon from a moving car at the Grosvenor Road end of the street.
None of the civilian witnesses reported seeing a gunman.
The soldiers reported seeing several.
However, the coroner stated that the use of force by the soldiers was "more than absolutely necessary" and "not justified".
Ms Brown's brother, Richard Brown, said it had taken "46 years to prove something that the family has known from day one".
"The only thing is I'm sorry that my mother and older brother are not here to witness this - the final truth has come out."
Mr Corrigan, Ms Brown's then boyfriend, said: "I just wish it had been honest and upfront from the start and it would have saved 40-plus years of misery for the family and myself."
Fatal shot
He added: "She was a beautiful girl really, not even a woman, and yet she was pregnant with our child.
"We'd just come from her mother's house. To lose her was a massive part of my life and has created problems for me throughout that time and, of course, for Marian's family as well."
The court heard that soldiers returned at least 27 rounds in response to gunfire in the area from the unidentified gunman.
The coroner has been unable to conclude which soldier fired the fatal shot.
He pointed out that Marian Brown was moving and spinning round at the time she was shot, making it impossible to be completely certain where the shot originated.
Two other civilians, including Thomas Corrigan, were shot and injured during the incident.
The coroner found that the investigation into Marian Brown's death at the time was "inadequate".
He also found that the rules of engagement for soldiers were not followed correctly.