Belfast Tropical Ravine: Rainforest 'only half open'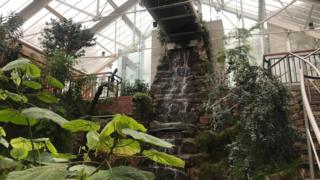 It cost £3.8m to return Belfast's Tropical Ravine to its former glory but to some disappointed children it has proved a paradise lost.
You can enjoy the wild rainforest from upstairs, but you cannot get down and dirty on the forest floor below.
"My six-year-old son loves dinosaurs and he wanted to go downstairs in among the ferns and the tropical plants on the forest floor," said one father.
"A staff member said no-one was allowed down for health and safety concerns."
The father said he and his children visited on Saturday morning and there were plenty of families keen to enjoy Belfast's new rainforest experience.
His son was not the only disappointed child, he said, and the staff were sorry that they could not allow visitors on to the ground floor.
'Palmed off'
"It is a beautiful refurbishment and is much better than it was. But it is such a shame you can only get in to see half of it," he said.
The newly refurbished ravine in Belfast's Botanic Gardens opened to a fanfare two weeks ago.
A spokeswoman for Belfast City Council said since the ravine opened, 16,000 visitors have already passed through its doors.
"Prior to the refurbishment of the Tropical Ravine, visitors were only able to access the lower level if accompanied by a member of staff. This remains the case and we now offer guided tours which can be booked in advance," the spokeswoman said.
"It is not possible to keep the lower level open to visitors at all times as, due to the Tropical Ravine's listed building status, restrictions are in place regarding the number of visitors allowed on the lower level at any one time.
"It's also important for us to minimise any potential damage to the heritage collection of tropical plants in this area - some of which are more than 100 years old."
The building dates back to 1887 and is a favourite spot with locals and students at nearby Queen's University.
It offers unique plants, ferns and fruit trees - some of them are hundreds of years old.
But it had fallen into disrepair. After three years of work, jointly funded by Belfast City Council and the Heritage Lottery Fund, the listed building dating back to the nineteenth century, has been restored with many of its original Victorian features preserved.
As well as ancient plants, visitors can enjoy seeing star fruit, custard apples, pineapples, bananas and ginger growing in a park in their own backyards.
The attraction has a number of interactive exhibits which will give visitors a chance to learn about the plants, some of which cannot be found anywhere else in the world.
The council said tours can be booked here or visitors can email tropicalravine@belfastcity.gov.uk.