Hundreds at vigil over Bangor pier assault on girl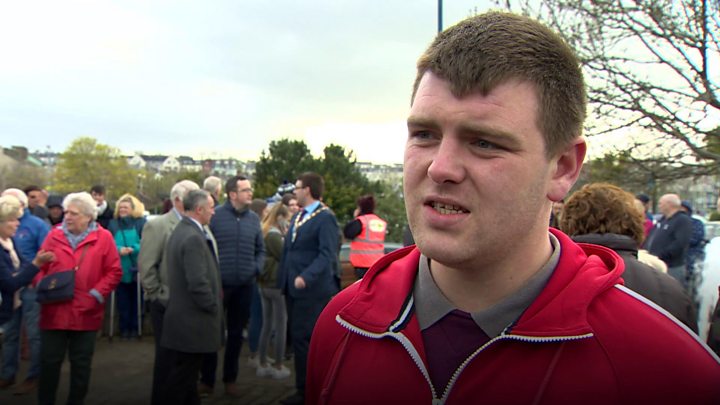 About 200 people have attended a vigil in Bangor, County Down, to show their disgust at an attack on a teenage girl in the town at the weekend.
The 16-year old girl sustained severe facial injuries after being punched and kicked in the assault, footage of which was posted online.
Earlier three other teenagers appeared in court charged over the attack.
The mayor of Bangor said the vigil sent out the message that the town would not tolerate such attacks.
"It shows the community here in Bangor united in a stand and a stand has been taken here tonight," Alderman Robert Adair said.
"The message from the people of Bangor tonight is one of solidarity with the victim.
"Our thoughts and prayers are with the victim and we wish her a speedy recovery."
Appearing in court earlier on Monday were a 16-year-old girl, a 17-year-old boy and an 18-year-old woman, Cora Mary Linda Campbell.
They are due to appear again in court in May.
Ms Campbell, of English Street, Downpatrick, County Down, was charged with grievous bodily harm (GBH).
She was refused bail due to concerns over her risk of reoffending and what the judge described as a prolonged assault on a defenceless victim.
The 16-year-old girl, who is charged with GBH, was also refused bail.
The 17-year-old boy is charged with GBH, aiding and abetting GBH and assault occasioning actual bodily harm.
He did not make an application for bail.