Youth charged over filmed assault on girl in Bangor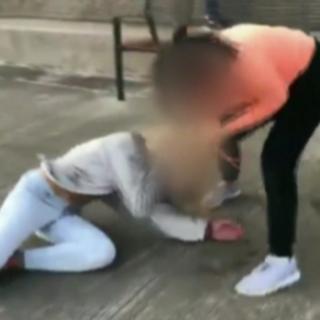 A teenage boy has been charged with a number of offences after a "vicious" attack on a 16-year-old girl, which was filmed and posted on social media.
The victim suffered severe injuries to her face and head in the assault in Bangor, County Down, on Friday evening.
A 16-year-old girl arrested in the early hours of Saturday has been released on police bail.
In the video, the victim is punched and kicked in the face by another girl and has her head struck off the ground.
At one point, a different teenage girl joins in the attack, which happened on the seaside town's pier.
The 16-year-old victim's ordeal continued after the recording stopped - she was eventually rescued from a fountain by a passing motorist.
Police said her injuries are so severe that medical staff will not be able to carry out x-rays on her face until next week.
A number of people appear to be watching as the assault is carried out.
Police are seeking two other people, including a 14-year-old girl, in connection with the incident.
Among the charges the 17-year-old boy faces is grievous bodily harm with intent.
Ch Insp Gerry McGrath said: "We have identified all of the suspects involved, two of whom have been arrested. The others are being actively sought by police."
He added: "While we appreciate the support of the local community and understand their shock at this assault, we would ask that members of the public do not use social media as a means of progressing this investigation.
"Our officers are working hard on this case and it is important that we follow due process.
"This was a particularly vicious attack on a young girl and we would appeal to anyone who witnessed the incident on Friday evening to contact police."
Police asked Facebook to remove the video of the attack.
North Down DUP assembly member Gordon Dunne said he was shocked and disgusted by the attack.
"This was a shocking, cruel assault on a girl in broad daylight in a busy area of Bangor along the pier," he said.
"My sympathies go out to the victim of this attack and I trust she will be able to make a full recovery."