Fermanagh pet lovers learn CPR for dogs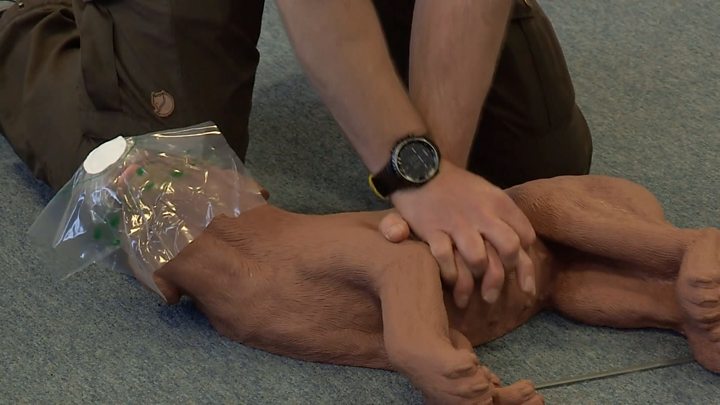 Cardio-pulmonary resuscitation, CPR, helps save hundreds of human lives every year, and first-aider Keith McCabe cannot see why animals should not benefit as well.
"It's always struck me that our pets could do with a bit of first aid and actually I've done first aid on my animals on regular occasions," he said.
"The reason this course actually came to be was that a friend of mine asked was there a course specific to pets?"
Keith has brought his own dog Tash along to the event in Fermanagh House in Enniskillen on Saturday, but it is a CPR dog mannequin called Casper that everyone will get to try their new-found skills on.
Not surprisingly, many of the people who have come along are from animal rescue backgrounds.
"We've often got messages from people late at night, saying my dog's been in an accident, what can we do?" said Caolan Maguire, who runs Pets Lost and Found Fermanagh on social media.
"I'm a dog owner myself, obviously they get their cuts and grazes, but I've never gone as in-depth as this."
While some may baulk at the idea of giving a pet mouth-to-mouth, for these animal lovers it is no problem.
"I would do anything for an animal," says Johanne Judge, who runs a husky rescue centre that takes in other animals as well.
"We have 29 dogs and about 30 cats. So the reason why we're here is because of our fur-babies, that if anything ever happens to them, that we can be on scene and stop, hopefully, a dog from being hurt or dying."
The course covers everything from minor cuts up to the worst-case scenario of having to resuscitate a pet.
We were all supplied with filters to put on Casper for the actual mouth-to-mouth, but in an emergency, Keith tells us, you can use a sock or handkerchief.
And it is probably more accurately called mouth-to-nose for a pet, as you close the animal's mouth for the breaths.
Of course, the anatomy is a little different. While human beings are on their backs for CPR, Casper is lying on his right side, because a dog's heart is over to the left. But that is one of the few differences.
Even the principle of breaths, usually five to start, followed by 30 compressions and another two breaths, is similar to CPR for humans.
"This is actually really beneficial for the public at large," said Keith.
"Because now these people are going to be able to actually perform various types of first aid on people as well as animals."
That connection seems obvious to Carrie Townsend, who's an animal physiotherapist and owns dogs, cats and horses.
"I know some people I spoke to were like, 'oh, you can't do first aid on a dog', but why not?" she said.
"They still suffer the same injuries, the same ailments as a human, so how satisfied and proud of yourself would you be to be able to administer that emergency care and potentially save a life?"