Woman charged after north Belfast crash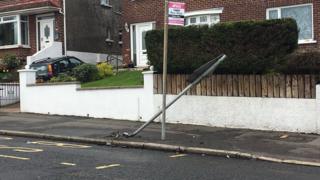 A 29-year-old woman has been charged with grievous bodily injury and dangerous driving after a man was hit by a car in north Belfast on Sunday.
The crash, on the Ballysillan Road, was reported to police shortly after 3am.
It is understood the car hit a number of vehicles parked along the road, before hitting a traffic sign and the male pedestrian.
The victim, in his 40s, was taken to hospital with severe head and facial injuries.
Insp James Murphy said the man's injuries are believed to be "life-changing, but not life-threatening".
The owner of one of the damaged cars said her vehicle is now a write-off.
People who live on the part of the Ballysillan Road where it happened said they woke up on Sunday morning to the sound of crashes.
On Thursday, Lisa Gow died after she was hit by a stolen car on the same stretch of road.
Nearby, friends and family have left flowers in memory of the popular mum of two.
Julie-Ann Corr-Johnston, a PUP councillor for north Belfast, said: "In light of Thursday's events, what has unfolded last night is difficult for the community to process. We've heavy hearts and a dark cloud hanging over us with the death of Lisa.
"Today people have opened their blinds to carnage on their doorsteps, the measure of which we're still completely unsure."
Police have appealed for anyone who may have dashcam footage of the crash to contact them.