Two killed in County Antrim light aircraft crash named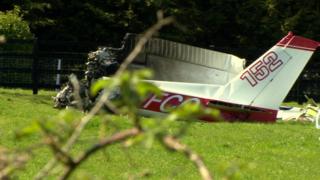 The two people who died in a light aircraft crash in County Antrim on Thursday have been named locally as Bryan Greenwood and Bob Farmbrough.
Mr Greenwood, from Larne, was an aerial photographer and Mr Farmbrough was a former airline captain.
The retired commercial airline pilot was originally from England but was living in Carrickfergus, County Antrim.
They were in a small plane, thought to be a Cessna, that crashed between Nutts Corner and Loanends.
Both Mr Greenwood and Mr Farmbrough's family and friends have paid warm tributes to them on social media.
Mr Farmbrough was a highly experienced pilot who worked for a number of airlines, including Inter European Airways; Airtours International Airways and British Regional Airlines (which operated British Airways flights from Belfast).
An eyewitness told the BBC the aircraft circled over houses and tried to land, before crashing in a field and catching fire.
The crash is being investigated by the Air Accidents Investigation Branch (AAIB). It removed the wreckage of the light aircraft from a field on Saturaday.
The remains of the plane will now be taken to Farnborough, Hampshire, where the AAIB investigation will continue.
The AIIB has appealed for information from witnesses "no matter how insignificant they think it may be".
It would like to hear from anyone who saw the plane at any time during its' flight from Newtownards Airfield in County Down until it crashed.
"Did you see the red and white light aircraft with the distinctive 152 on the tailplane, or did you perhaps film or photograph the plane?" a spokesperson said.
"If so, could you please contact the police as soon as possible and they will forward the information to the Air Accident Investigation Branch."
Flying conditions on Thursday were near perfect.
There are reports that the light aircraft was on a round trip from Ards Airport when it crashed.
On Friday, Ards Flying Club said it was not able to comment and directed all media inquiries to the police.