Stolen car in fatal crash was being chased by police - Ombudsman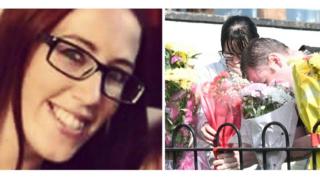 The Police Ombudsman has said that a police car was pursuing a stolen vehicle which hit and killed a mother of two in north Belfast on Thursday.
The PSNI had said that they had stopped chasing the vehicle before the collision which killed Lisa Gow.
On Friday 39-year-old man appeared in court charged with causing her death by dangerous driving.
The Ombudsman's Office is investigating the circumstances which led to what happened.
A spokesman has said its investigators have established that police had been in pursuit of the stolen car.
'Seconds behind'
He said: "Video from the police helicopter and from within the lead police pursuit car clearly shows that when the collision occurred, police were a matter of seconds behind the suspect vehicle.
"Our investigation is continuing and will consider issues such as how police dealt with this incident and the manner of police driving."
Police Ombudsman investigators have met members of the deceased's family and briefed them about its investigation.