Man jailed for assaulting in-law at christening party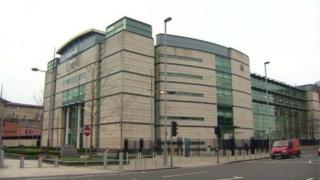 A 63-year-old man has been jailed for assaulting an in-law at a christening party during which he punched and kicked him up to 15 times.
Gordon William Lowry, of Castlerobin Road in Belfast, pleaded guilty to causing grievous bodily harm with intent.
He was sentenced to four years and nine months.
The court heard that the defendant was at a christening party in Balmoral Bowling Club in September 2016.
The judge watched CCTV footage of the attack which took place outside the bowling club and in front of a mother and a young child.
Lowry was shown to throw 11 punches at his 48-year-old victim, with one punch striking him on the face, knocking him down, where his head struck the ground.
The defendant was then seen kicking the victim's head three times and his stomach once.
The victim sustained injuries to his temporal lobes and a fracture at the base of the skull.
The victim's blood alcohol reading showed he was four times the drink-drive limit.
'Winding me up'
The prosecution lawyer told the court: "It is absolutely clear that the serious injuries to the head were caused by the punches and not by the kicks.''
The court heard the row started after the victim "started making remarks about Mr Lowry's family''.
At police interview, Lowry was shown the CCTV footage, and replied: "I didn't realise I had hit him so many times.
"He wouldn't go away. I was asking him to go away but he refused. He was winding me up. I just wanted him out of my face. I didn't intend to hurt him.''
His defence lawyer told the court it should consider "provocation".
"This is the last thing Mr Lowry expected would happen at a christening party.
'Provocative manner'
"It is clear for a relatively significant part of the time he tried to step away from matters, particularly as the victim appeared to be intoxicated.
"He deeply regrets what has happened and this incident has had a significant impact on him. He expects nothing less than a custodial sentence.''
The judge said that it was clear from the CCTV footage that the victim had "consumed a significant amount of alcohol and had been acting in a provocative manner'' towards Lowry.
"Clearly there was a trigger comment or trigger statement by him and you have then come after him.''
Lowry will serve half his sentence in custody and half on licence.