Lord Kilclooney charged over the height of hedges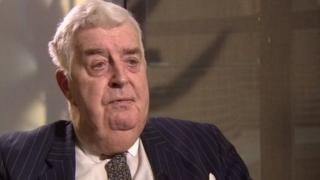 Lord Kilclooney has been taken to court over the height of hedges at his Armagh home.
The peer, who did not appear in court on Friday, is charged with failing to comply with a remedial notice over the hedges at his Portadown Road home.
On 24 January, the 80-year-old was given one month by Armagh, Banbridge and Craigavon Council to cut back the hedges.
When he failed to comply, the council brought the matter to court.
Under the terms of the High Hedges Act (Northern Ireland 2011), councils have the power to deal with high hedge complaints.
In court on Friday, the prosecution said that a letter had been received in which the defendant, who is currently out of the jurisdiction, has confirmed he will cut the hedges by 18 May.
Failing that, a district judge said the matter will be fixed for hearing.
Legal protection
Lord Kilclooney - John Taylor - is a former deputy leader of the Ulster Unionist Party and was a key negotiator in the Good Friday Agreement.
According to the Department of Agriculture, the High Hedges Act aims to help people who are adversely affected by high hedges bordering their domestic property.
"It applies to any evergreen and semi-evergreen hedge that is more than two metres in height and affecting light reaching a neighbouring domestic property," says the department.
"The act introduces a formal complaints system that will be operated by local councils, but it should only be used as a last resort as neighbours are encouraged to resolve the problem themselves."