No environment laws broken in A6 road scheme, says Agency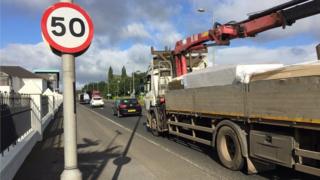 An Environment Agency investigation into work on a £160m roads scheme in Northern Ireland has found no environment laws have been broken.
Contractors moved on to a site at Toomebridge in mid March, which was the subject of a protracted legal battle.
The dispute was over the impact of the A6 road scheme on an overwintering population of protected whooper swans.
The swans are one of the reasons the area has been designated a European Special Protection area.
Foraging grounds
The route of the new road skirts the protected site.
Environmentalist Chris Murphy had made the case that the proposed route would have a negative impact and result in the loss of key foraging grounds.
He claimed the proper environmental assessments had not been carried out - something rejected by judges.
He lost his original case and an appeal in the Northern Ireland courts.
Mr Murphy now intends to try to take it to European courts.
The Department for Infrastructure had given a commitment in its environmental statement that it would not do major earth works between October and mid-March to facilitate the overwintering swans.
Mr Murphy complained to the police and the Northern Ireland Environment Agency (NIEA) as equipment moved in.
An NIEA spokesperson said it had found no evidence of a breach of conservation laws and had "therefore closed this investigation".