Tributes paid to 'Big Tom' McBride at funeral in Monaghan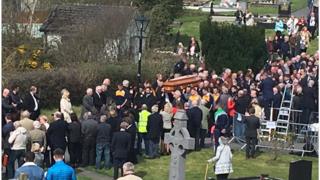 The funeral of country music star Big Tom has taken place at Saint Patrick's Church in Oram, County Monaghan.
Singer Daniel O'Donnell and his sister Margo were amongst the hundreds who attended the service on Friday morning.
'Big Tom', as he was affectionately known by his friends and fans, was a renowned musician.
Margo O'Donnell and Big Tom - who died on Tuesday aged 81 - duetted on a song called A Love That's Lasted Through The Years.
The homily was delivered by Fr Leo Creelman, who described him as "a man big in stature, matched up with an even bigger heart".
"Tom McBride was chosen by God and gifted with many talents and abilities," said Fr Creelman.
"Despite all his success and fame, he always remained humble and down to earth and first and foremost a family man."
Reflecting on the singer's marriage to Rose McBride, who died in January, he added: "Tom and Rose were a partnership that worked - an example of where each spouse cared for the other more than for themselves.
"They bear witness and testimony to a selfless love and bond that is possible within marriage, like a match made in heaven."
He added: "When Rose died, a massive part of Tom went with her. He was lost, dazed and broken-hearted."
Big Tom and The Mainliners were formed in the 1960s and achieved widespread success, with Big Tom's hits including Gentle Mother, Four Country Roads and Old Log Cabin For Sale.
On arrival at the funeral, Daniel O'Donnell said of his friend: "You think people like Tom are going to go on forever.
"And in the country music circle, there's no question that he was the king, and he will be the king.
"He may be gone, but the king will live on in everybody's hearts and certainly in his music."
Mr O'Donnell described the musician's death as "a huge loss for the people", adding: "He just had a connection with people that you can't explain, other than you've seen it and understood it and were present to experience it."