Foot and Mouth exercise being held in Northern Ireland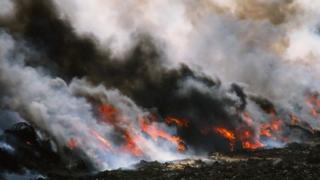 A simulation exercise to test the government's contingency plans for Foot and Mouth disease is to be carried out in Northern Ireland.
Northern Ireland's Department of Agriculture has linked up with its counterparts across the UK and the Animal and Plant Health Agency.
The assessments will be held on 25 and 26 April.
The exercise will simulate a medium-to-large scale outbreak in England, Wales, Scotland and Northern Ireland.
Known as Exercise Blackthorn, the tests will establish the current state of readiness while identifying issues and possible improvements.
Vitally important
Foot and Mouth disease led to the culling of millions of animals across the UK in 2001.
Northern Ireland's chief veterinary officer Robert Huey said: "Having robust and effective contingency plans are crucial to containing and managing the spread of an outbreak of Foot and Mouth disease.
"Therefore, regularly reviewing them and identifying any issues that may arise is vitally important when we have to respond to a disease outbreak in reality.
"A national exercise, such as Exercise Blackthorn, provides the opportunity to both learn and share good practice with our fellow-administrations in the UK, in order to improve our response and effectiveness," he added.
EU directives require member states to exercise their contingency plans twice within a five-year period or during a five-year period after the outbreak of a major disease has been effectively controlled and eradicated.