Stalford would 'never be pushed out' of united Ireland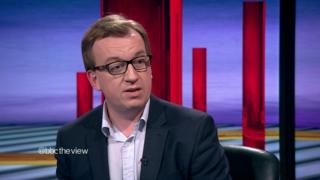 A DUP MLA has said he would "never leave or be pushed out" in the event of a united Ireland.
Christopher Stalford told BBC's The View: "I was born and reared here. My family have been here for hundreds of years. This is our home."
He was reacting to comments from party leader Arlene Foster that she would consider leaving if there was a united Ireland.
He said Mrs Foster's views were "reflective of a lot of unionists".
'Not Irish'
"They feel they would effectively be pushed into the Irish sea. That's the feeling that exists.
"For my part though, I would never leave this island," he added.
He told the programme: "We need to show that you can be British and Irish at the same time".
However, said he felt British rather than Irish.
Reacting to Mr Stalford's comments, SDLP leader Colum Eastwood said unionism needed to "feel comfortable" in "the type of Ireland I want to see".
"If you want to build a new Ireland we have to engage positively in a way that recognises Christopher's Britishness.
"We have always said the Good Friday Agreement should endure beyond a border poll. Unionism would be protected.
"It isn't about joining a Catholic country anymore. We should try to convince each other of the best possible way forward.
"I'm not in interested in defeating anyone or raking up the past and dealing with old stories of oppression.
"I'm not sure I'll ever convince Christopher, but... we can convince enough people in time. I would say to Christopher - this is your home as much as mine."
'Case for unionism stronger than for nationalism'
Mr Stalford also told the programme he was not concerned by a leading academic's claim that it is likely Catholics will outnumber Protestants by 2021 in Northern Ireland.
Dr Paul Nolan, who specialises in monitoring the peace process and social trends, said Northern Ireland could have a Catholic majority by the centenary of the foundation of the state.
Mr Stalford said it was possible to be from any religion and still be a unionist.
"Unionism is a belief in the UK. It is made up of four different countries and dozens of regional identities," he said.
Mr Stalford said he believed the case for unionism was stronger than for nationalism.
"Nationalism by its very nature is a more exclusionary political viewpoint. You're either part of the nation, in this case the Irish nation, or you're not.
"Our challenge is to demonstrate that Irish and British are not mutually exclusive," he added.