£91m education cash to be made available in NI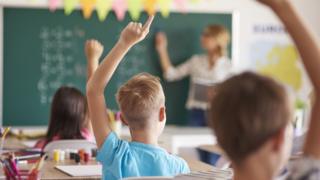 Unspent money totalling £91m for shared and integrated education from the Fresh Start agreement will be made available in future years.
That is according to the Treasury and the Department of Finance.
The confirmation came after BBC News NI revealed the Department of Education (DE) had only been able to spend £8m of the £100m allocated since 2016.
The department had said discussions were still taking place with Treasury to ensure unspent money was not lost.
The government would allow any remaining funding from previous years for shared education and housing to be dispersed flexibly within the current spending review period which runs until 2020-21, said the Department of Finance.
"This £91m from 2016-17 and 2017-18 can be used for proposals that meet the objectives of increasing the provision of shared education and housing, including schools or campuses where children from different communities are educated together," said a department spokesman.
Only £5m of £50m available to the Department of Education for new shared and integrated schools was spent in 2017/18.
Integrated schools
Some £3m of the previous £50m available under the agreement in 2016/17 was spent.
Funding of £500m for new shared and integrated school buildings was part of the Stormont House agreement in 2014 and was re-affirmed in the Fresh Start Agreement in November 2015.
In March 2016, the then secretary of state Theresa Villiers announced the release of the first tranche of the education money.
Fifty million pounds a year for 10 years was to be provided for integrated school buildings and shared education campuses.
A shared education campus is where two separate schools get new facilities for pupils of both schools to use alongside each other.
For instance, one of the planned campuses is in Ballycastle, County Antrim, where Cross and Passion College and Ballycastle High School will move into new post-primary schools on one site.
They will also share new sports facilities which are also yet to be built, although the project is entering the design stage.
In 2016 it was also announced that shared education campuses were to be built in Moy and Limavady.
'Tightly ring-fenced'
Three new integrated school buildings were also planned.
The BBC understands that the £500m funding is tightly ring-fenced and could only be spent on new schools.
It can take a number of years for a new school building to be completed.
Therefore, the department has only been able to spend £8m of the first £100m available.
The department told BBC News NI that: "Of the £50m available, £6.2m was allocated to the department budget for eligible Fresh Start projects in financial year 2017/18.
"Projected spend at year-end is £5m," it said in a statement.
"Discussions are ongoing with the Northern Ireland Office and HM Treasury on potential future expenditure under the Fresh Start programme, including flexibility of previously unspent budget across this spending review period."