Millisle man sentenced for multiple robberies in Belfast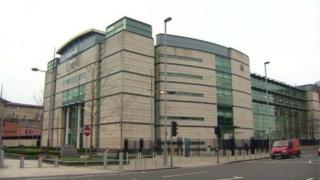 A 29-year-old man has been sentenced to serve seven years in prison after carrying out a number of robberies at businesses in Belfast.
William Meekin, from Abbey Road in Millisle, carried out two robberies and attempted a further three while under the influence of drugs.
The targeted businesses were on the Shankill Road and in the east of the city.
During the incidents, Meekin was armed with a variety of weapons.
These included a knife, a saw and a glass bottle which he used to threaten staff.
On Thursday, Meekin was told that he would serve half of his sentence in prison with the remainder on licence after his release.
'I will glass you all'
Belfast Crown Court heard that the first robbery took place at a kebab shop on the Shankill Road at about 23:00 BST on 20 February.
Meekin entered the shop holding a knife, before approaching the counter and demanding money.
After taking £50, he left the shop and crossed the road to a nearby Chinese takeaway where he was verbally abusive and waived a knife at a staff member.
The owner of the shop then chased Meekin out of the shop while holding a meat cleaver.
At about 13:30 BST the following day, Meekin attempted to rob a pharmacy on the Ravenhill Road.
Armed with a glass bottle, he approached staff, tapped the intact bottle on the counter and said "fill a bag with Diazepam or I will glass you all".
The manager filled the bag with Diazepam and Lyrica tablets, and as Meekin left the premises, he told staff not to call police for ten minutes.
Large handsaw
Shortly afterwards, the 29-year-old entered a shop on My Lady's Road with the same bottle.
He made demands of the 63-year-old female staff member who hit a panic button, causing Meekin to leave the store.
The Millisle man proceeded to another shop on the Beersbridge Road at about 14:00 BST.
This time he produced a large handsaw and demanded money from the till.
An employee was able to run out of the shop before closing the front door from the outside.
Meekin was trapped in the store until police arrived and he was then arrested.
'High on drugs'
Belfast Crown Court heard how Meekin told officers that he was "only joking" and initially gave false details, before later providing his real name and address.
Prosecutor Robin Steer said that during interview, Meekin denied the offences but gave no alibis.
However, four different witnesses identified him and he later admitted two robberies and three attempted robberies.
Mr Steers branded the offences as "rather unsophisticated but including the use of a weapon", adding that Meekin's extremely low IQ placed him in a category of "moderate learning disability".
Defence barrister Jonny Connolly said that while Meekin's offending was unacceptable, he asked the court to "take a step back" and access his client's behaviour against a backdrop of low intelligence and drug addiction.
Revealing Meekin became addicted to Lyrica after being prescribed it by a GP, Mr Connolly said after this Meekin "started to take drugs on a regular basis".
Judge McFarland told Meekin, "it is obvious you were high on drugs", adding that whilst the incidents lacked planning or sophistication and were "rather amateurish", they were serious and employees were put at risk.
The judge added: "Whilst the robberies were short in duration, the effects of these can be long-lasting for the staff."