Stolen car in fatal crash was not being chased by police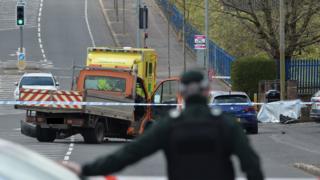 The police have said that a stolen car which struck and killed a woman in north Belfast was not being chased at the time.
The black Audi was taken from outside a house on the Cavehill Road on Thursday morning.
The PSNI had broken off an earlier pursuit and a police helicopter was tasked with following it.
The stolen car then hit another vehicle on the Ballysillan Road before hitting the woman, who died at the scene.
A 39-year-old man has been arrested.
It is believed the woman is in her 30s and has two young children.
Police and the Police Ombudsman are investigating the circumstances leading up to the crash.
A spokesman for the Police Ombudsman's Office said a "stinger device" is believed to have been used by the police in the chase.
"We are now investigating the actions taken by police in the period prior to the collision. Our investigators have been at the scene and are continuing to make enquiries."