NI Newspaper review: RHI inquiry heat on Arlene Foster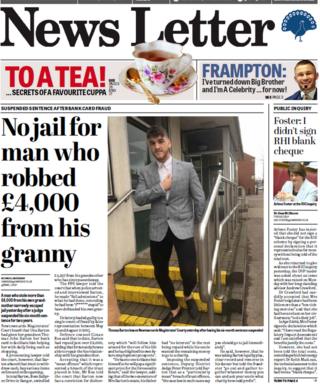 The inquiry into the failed RHI energy scheme appears to be heating up judging by its impact on the front pages of Northern Ireland's daily newspapers in the last few days.
The story is again dominating column inches on Thursday, with all the daily papers carry extensive reports of Arlene Foster's latest evidence to the inquiry.
The headline on the front page of the Irish News says Mrs Foster described as "nonsense" a claim by the head of the civil service that minutes were often not taken at meetings because of the risk details would emerge in public.
"I never gave a direction not to take minutes because of FOI or because I did not want anybody to see what was happening in my department," she said.
In two pages of coverage inside, the paper reports Mrs Foster saying that she did not sign a blank cheque for the RHI scheme.
John Manley, the Irish News' political correspondent, writes in an analysis piece that the DUP leader's latest evidence to the inquiry "served to reinforce the notion that she was overseeing a department that was ill-equipped, under-resourced and headed by a minister whose adherence to procedure, in hindsight, looks questionable".
Over in the Belfast Telegraph, it's a similar story with Suzanne Breen writing her RHI analysis under the headline: "No matter who's right, no one looks good in this mess".
"At the very least, the evidence at this inquiry seriously challenges the DUP's reputation for competency," she says.
While the Telegraph nestles RHI into page four, a large section of its front page concerns the disappointment of a Coleraine man over the 12-year minimum jail tariff handed to the murderer of his father.
Abused grandmother's trust
Karl Lamont said that Richard Dalzell, 37, from Whinpark Road in Newtownards, should never be freed after he was sentenced for the murder of Mark Lamont, who died after being "repeatedly stamped" on in a "senseless assault".
The front page of the News Letter, meanwhile, reports that a man who stole £4,000 from his grandmother will not face jail.
It reports that Thomas Barton, of Ballyree Drive in Bangor, had abused his grandmother's trust and withdrawn money from her account after she gave him her bank card to help her with her daily living needs.
The court heard that he made a full admission and that the conviction "will follow him around for the rest of his life".
In the Daily Mirror, police attempting to track down the murderer of a homeless man in Maghera have released CCTV footage in which the victim appears to be being followed by a hooded man.
The PSNI hope that the images will help find the killer of Piotr Krowka, 36.
Elsewhere, the paper reports that fans and friends were out in force on Wednesday to pay tribute to country music legend Big Tom McBride following his death.
The star's remains lay in repose in a community centre near his home, where people queued throughout the day to pay their respects to the man known as the "king of country".
From a music legend to a sporting one - the News Letter reports that if producers had their way, Belfast boxer Carl Frampton would have become a reality TV star.
He has revealed that he was asked to take part in I'm A Celebrity and Celebrity Big Brother - but turned them both down, as "I'm a boxer and I'm still boxing".
Frampton did leave the reality TV door open, however: "Maybe in a few years time, if they ask me again, I might change my mind."
And finally, we all remember misguidedly kicking, throwing and shanking balls into the gardens of neighbours when we were younger - but spare a thought for west Belfast residents who live next door to a GAA pitch.
These residents are featured holding about two dozen sliotars (hurling balls) in an arresting picture on the front page of the Irish News alongside the headline "Ball wars".
One woman who spoke to the newspaper says she was been left a "nervous wreck" as a result of sliotars and footballs landing in her back garden.
"It's a nightmare, you are jumping out of your skin when you are making food in your kitchen," says Caroline Mullan.
St Paul's GAC says it is willing to meet with residents to talk about their concerns.