A big turnout for country legend Big Tom McBride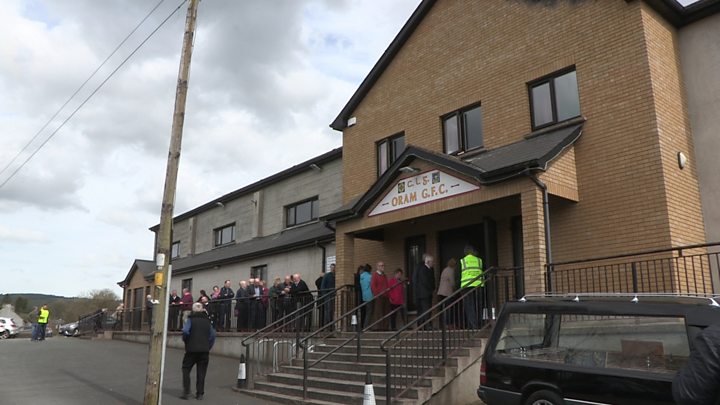 People flocked from all over Ireland to rural County Monaghan to pay tribute to the man they called "the King".
Big Tom McBride, as he was affectionately known by his friends and fans, was a renowned musician.
He died on Tuesday aged 81 and his funeral takes place on Friday, 20 April.
The doors of Oram GAA club opened just after midday on Wednesday and a steady stream of people lined up to say one last goodbye.
Mr McBride was best known for his role as the front man in Big Tom and The Mainliners.
His band mate Henry McMahon, who grew up only three miles from Big Tom, was in Oram to pay tribute to his close friend.
"Big Tom was an icon, and carried his stardom very light, he was an absolute gentleman," he said.
Henry attributes The Mainliners' initial success to appearing on RTÉ - the national broadcaster in Ireland.
"We got a spot on The Showband Show. The other artist on the show that night was Joe Dolan and the newcomer spot was The Mainliners.
"Big Tom sang a song called Gentle Mother and that was the start of a fabulous career for us all.
"The craic was great because we were all doing something we loved. We didn't look at it as a job at all," he added.
Big Tom was a big influence on country singer Derek Ryan. Derek even shared the stage with Big Tom when he was a young boy.
"I got to support him when I was 12 years-old. Myself and my brother supported Big Tom at the Lord Bagenal in Leighlinbridge Bridge, County Carlow.
"The band let me play the drums, and I told everybody I was playing Big Tom's drums - I was delighted with myself.
"It is a sad day and it's a loss to Irish music," he said.
Tom McBride was given the freedom of Castleblaney in 2014 when Gary Carville was the town mayor
Mr Carville said Big Tom's "unique contribution to country music" merited special recognition.
Mr Carville said Big Tom's music "touched the hearts" of many people.
"The music Big Tom sang was always that of a story, maybe sometimes sad, but sung in a way that reflected the reality of people's lives," he added.
Reflecting on the impact Big Tom had on country and Irish music, local broadcaster Sean McCaffrery said the singer's influence is easy to see.
"Derek Ryan, Nathan Carter, Lisa McCue, these are all the new kids on the block.
"These boys and girls who are into the country scene now would all say Big Tom played a big part in where they are now.
"He was just Big Tom to us all. It's not until you see the crowds here and the outpouring of grief from a national perspective you realise he touched an awful lot of people's lives.
"You come to a wake expecting grief, but you get so much more. You get the stories, the yarns and the tales.
There is an element of sadness, but there is an element of togetherness," he added.
It wasn't just the music scene that Big Tom had a big role in.
He captained the Oram GAA junior football team in 1963 and remained heavily involved in the club for the rest of this life.
Oram GAA PRO Tony Graham said Big Tom donated a piece of land "free of charge" to Oram GAA so they could have playing fields and a permanent community hub.
He said: "Without Big Tom's support the club wouldn't be standing here today.
"We're very much proud of him and it's a sad day for the community," he added.