Life after factory work in Ballymena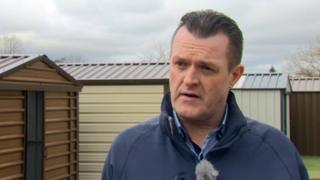 Jobs lost in manufacturing are proving hard to replace in Mid and East Antrim and some former factory workers are living proof of the statistics.
Seamus McIlhatton now sells sheds after 18 years at Japan Tobacco International (JTI) in Ballymena, a job he imagined would last until retirement.
"It was similar to somebody telling you somebody had died," he recalls of the day JTI announced it was closing.
"There was panic. When you started you thought it was a job for life."
The most up-to-date figures from the Northern Ireland Statistics and Research Agency (NISRA) show a decline in manufacturing jobs in the council area, stretching from Ballymena to Carrickfergus.
Between 2015 and 2016, posts in manufacturing fell by 6% to about 8,600.
While this includes many of the 800 jobs lost at JTI, it does not capture the hundreds of others which either have followed, or are likely to, at the likes of Michelin, Schrader, Wrightbus and Kilroot power station.
Diversification
The NISRA data also reveals a 1% drop in employee jobs in the council area over the same period.
In short, manufacturing jobs, often well paid by Northern Ireland standards, are proving difficult to replace.
Mr McIlhatton said: "It seems every time you turn the news on another manufacturing business is away.
"I think that is why a lot of people had to diversify and look for other avenues to work at."
One of his fellow workers from the JTI night-shift agreed that the economy is changing.
"Manufacturing jobs are just not coming here," says William McKittrick, who now runs a coffee shop in Portrush.
"Gallahers (as JTI was formerly known) was basically three shifts a week and a lot of money and benefits.
"In this job it is a seven-day week but if you want to succeed you have to put that in."
Soon Michelin's tyre factory in Ballymena will go the same way as JTI.
About half of its 840 employees have been made redundant already, but the search for work for others is about to begin.
With the support of Mid and East Antrim Council, the site is to become a business park which aims to attract new companies.
A fight back is underway, but the task ahead is a tough one.
You can see more on this story on BBC Newsline on BBC One Northern Ireland at 18:30 on Thursday.