Lough Neagh Pollan gets special European status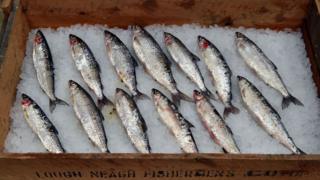 Lough Neagh Pollan has been awarded special status as "Protected Designation of Origin (PDO)" by the European Commission.
Lough Neagh Pollan is a white fish with a bright silver skin caught and processed in Lough Neagh. They are in season in February and March .
PDO identifies products that are produced, processed and prepared in a specific geographical area.
Their addition to the quality register was approved on Wednesday.
Lough Neagh is the largest lake in the UK and one of the largest lakes in north-western Europe.
Most Pollan caught in Northern Ireland is exported to Switzerland where it is popular.
---
Protected Food Names
Under EU law there are several ways to protect the heritage of famous foods made traditionally or tied to particular locations
Traditional Speciality Guaranteed (TSG) means the recipe or method of production has to be very specific
Protected Geographical Indication (PGI) means the recipe or method is protected and it has to be carried out in a specific location
Protected Designation of Origin (PDO) status means it also has to be made with ingredients from a certain geographical area
Examples include Parmesan Reggiano cheese, Parma ham, Stornoway black pudding and Champagne
---
The European Commission Office in Northern Ireland said that before 1900, harvesting pollan dominated fishing activities on the lake.
"It is still considered an economically important species and depending on the time of year "Lough Neagh Pollan" makes up a significant proportion of catches," it added.
The fish is caught using the traditional drift netting and gill netting method.
---
Some other foods with Protected Designation of Origin or Protected Geographical Indication
---
Chairman of the Lough Neagh Fishermen's Co-operative Society (LNFCS) Pat Close, said the accreditation is was a "just reward for the fishermen of Lough Neagh who work diligently using sustainable, traditional fishing methods to maintain a viable future for the species and the industry".
"Pollan are the only European vertebrate found uniquely in Ireland, with Lough Neagh the only lake currently capable of sustaining a viable commercial stock of pollan," he added.
'Ice age fish'
Dr Derek Evans from the Agri-Food and Biosciences Institute (AFBI), explained that Lough Neagh Pollan are one of only a handful of fish species native to Ireland that have remained here following the extinction impacts of Ice Ages.
"In science terms we call them a glacial relict, left over from the Saalian Ice Age (200'000 years ago), having lost their previous migratory behaviour as a consequence of sea temperature and salinity rises.
"Instead, the Pollan became restricted to the temperate freshwaters of Lough Neagh, leaving behind its closest relatives like the Arctic Omul and other members of the Cisco whitefish family to the cold waters of the Arctic," he said.
Lough Neagh pollan will be added to a list of more than over 1,425 products already protected across Europe.