David Sterling says ministers did not veto minute-taking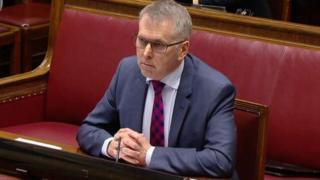 The head of the Northern Ireland Civil Service has said he was never asked not to take minutes of meetings by any of the ministers he worked for.
David Sterling was responding to correspondence from the Sinn Féin Vice President Michelle O'Neill.
Ms O'Neill had objected to the impression given by some of his evidence to the RHI Inquiry in March.
RHI offered financial incentives if firms switched to renewables.
David Sterling told the inquiry that ministers wanted a "safe space where they could think the unthinkable and not necessarily have it all recorded".
He added: "A feature of the devolved administration here has been that the two main parties have been sensitive to criticism.
"I think it's in that context that, as a Senior Civil Service, we got into the habit of not recording all meetings on the basis that it is safer sometimes not to have a record that, for example, might be released under freedom of information which shows that things that might have been considered unpopular were being considered".
Ignored 'inconvenient facts and lacks objectivity'
Ms O'Neill, who ran both the Health and Agriculture departments, insists the practice of not recording meetings was never discussed with Mr Sterling in any meetings with her Sinn Féin colleagues.
In correspondence shown to the Irish News, Ms O'Neill complained that Mr Sterling's remarks to the RHI inquiry had ignored "inconvenient facts and lacks objectivity".
In his reply to Ms O'Neill, Mr Sterling explained that he had been telling the inquiry how after the restoration of devolution in 2007,
"there was much more frequent and often informal contact between officials, special advisers and ministers which meant that there would often be many meetings involving ministers, advisers and officials before a policy decision was reached.
"Taken together I explained that these factors meant it was not always practicable to prepare timely, relevant and useful minutes of all meetings."
Mr Sterling clarified that he "did not say that ministers asked or directed that notes of meetings should not be taken".
He added: "Indeed, I am happy to state for the record that no minister who I served in any of the departments in which I worked during the period from May 2007 until the present day ever issued any general or specific instruction to me not to record meetings between officials and ministers."
Mr Sterling said he reassured the inquiry that, "even in circumstances where all meetings were not formally recorded, I was satisfied that in my experience there would have been a good audit trail (usually in the form of ministerial submissions) to show what decisions were taken and why they were taken".
The head of the Civil Service said the Executive Office has prepared draft guidance on the minuting of meetings which would be introduced in all departments in the future, subject to the agreement of a restored Stormont Executive.
Commenting on Mr Sterling's reply to Ms O'Neill on Wednesday, the former Education Minister John O'Dowd tweeted "all Executive parties did not manage "dysfunctional departments".
"I was minister for five years and most certainly did not run my department in the fashion being outlined to the RHI Inquiry.
"I also read legislation before bringing it to the Assembly".