RHI inquiry: Foster says note-taking claim 'nonsense'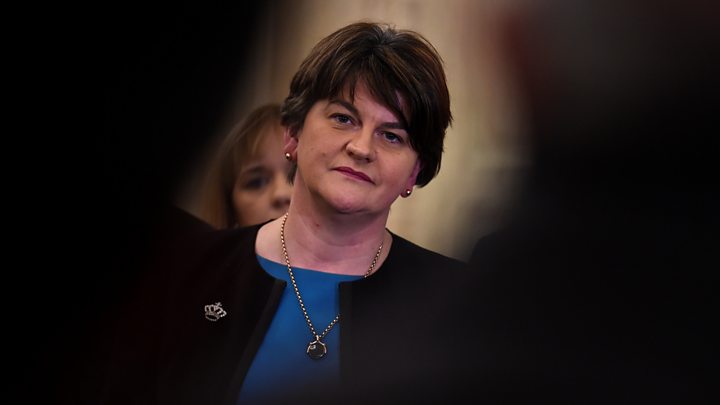 Arlene Foster has dismissed as "nonsense" a claim by the head of the civil service that notes of ministerial meetings were not taken due to concerns about freedom of information requests.
Northern Ireland's most senior civil servant David Sterling made the claim in evidence to the renewable heat incentive (RHI) inquiry in March.
On Wednesday, Mrs Foster refuted his comments.
Sir Patrick Coghlin is chairing the inquiry.
While giving evidence at the inquiry, Mrs Foster said she did not accept what Mr Sterling had said.
She said policy development was exempt under Freedom of Information rules and would not have been discoverable in any case.
She added that in all her time as a minister she had never asked officials not to minute meetings.
'Shocking'
Mrs Foster was the minister at Stormont's Department of Enterprise, Trade and Investment (DETI) when it set up the RHI scheme in 2012.
She told the inquiry the renewable heat scheme had been non-controversial and there was no reason to want to prevent people finding out about it.
The former DETI minister said she was not aware of the lapse in the practice of taking notes of ministerial meetings.
Mrs Foster said the found the idea "shocking, frankly".
She added, the only thing she could suggest was that the workload on officials had increased significantly when direct rule ministers were replaced with devolved ones.
"There were a lot more meetings taking place and I don't know whether that has had an impact on the fact that minutes weren't kept the way they should have been kept," Mrs Foster said.
She also addressed the claim that notes had not been taken because politicians from the DUP and Sinn Fein were sensitive to criticism over unpopular decisions.
She said all politicians were sensitive to criticism but that did not prevent them taking unpopular decisions.
The DUP leader said she had got into politics to do something with her mandate and to get things done.
Mrs Foster said if politicians were sensitive to criticism "you have to ask if you're in the right job."
'Did not know overall cost'
Earlier on Wednesday, Arlene Foster accepted that she did not know the overall cost of the RHI scheme when she signed off on it in 2012.
She said she believed there was a budget of £25m with entrants' 20 year payments covered by Treasury.
Mrs Foster told the inquiry that she had not been given the best estimate of the total cost of the subsidy spend which was £445m.
She denied that she had signed a "blank cheque" without knowing how much was to be spent.
Mrs Foster said with hindsight it would have been better for the overall cost figure to be included in a formal impact assessment that she signed off, before the scheme went live.
It stated her belief, that the costs of the scheme were justified because of the benefits.
She said there had been "much commentary" around the blank cheque claim.
"I don't accept that it was a blank cheque," said Mrs Foster.
"I did read that information given to me and I took the information at face value.
"I now know with hindsight I should have been given more information but I don't accept it was a blank cheque at that time."
But inquiry panel member Dr Keith MacLean asked how Mrs Foster could make a decision about the prudent use of public money when she did not know how much was to be spent.
She said that she was happy that funding commitments had been looked at carefully by Whitehall officials.
Dr MacLean suggested she "should have asked for more information".
"Well that's how you see it, yes," she replied.
The Inquiry chair, Sir Patrick Coghlin, said it would be for the panel to make a decision about that.
'A very big deal'
Also on Wednesday, Mrs Foster said she had not been given information about a clear warning not to proceed with the scheme in June 2012 - just months before the launch.
It was made by the Office of Gas and Electricity Markets (OFGEM) which was being paid to run it.
Its experts had advised DETI officials to wait and reflect cost controls being introduced into the scheme in Great Britain.
Mrs Foster said she did not believe the warning had been flagged up to her and it ought to have been.
She said it was a "very big deal" and the reasons for it ought to have been raised with her in a formal submission.
DETI official Fiona Hepper had given evidence that she told the minister about the warning but the decision was taken to proceed and bring in the controls later.
Mrs Foster said looking at her diary, there was no record of either a telephone call or meeting to discuss the matter.
She said the end of June 2012 was a particularly busy period.
She added there had been a visit by the Queen and the running of the Irish Open for the first time in many years in which she was heavily involved.
She said her diary showed a range of engagements and contacts with officials but no reference to any contact with Mrs Hepper.
Mrs Foster also said that had the warning been emphasised to her she would definitely have raised it with her advisor Andrew Crawford.
'Mixed messages'
Later Mrs Foster said she was getting "mixed messages" from her officials in May 2014.
They told her the domestic scheme was being prioritised and changes to the doomed non-domestic scheme were being postponed.
She said that did not set any alarm bells ringing because no warning was being flagged to her.
And she said the May submission talked of promotion of the scheme, which would have led her to conclude there was no problem with it.
Arlene Foster said at that stage she was not aware of the "cash for ash" rumours.
She said even though she was from a rural constituency she was not engaging with farmers about the RHI scheme.
She was asked whether she had had a conversation with the then agriculture minister Michelle O'Neill whose department was also promoting the scheme.
Mrs Foster said no because the "interaction at this time wouldn't have been particularly good and you may say what has changed, but it wasn't at that particular point in time".
'Wider practice'
On Wednesday afternoon, counsel to the inquiry David Scoffield QC said David Sterling's barrister had spoken to him during lunch.
He said he had asked him to raise with the panel exactly what Mr Sterling had said in his evidence.
That was while general ministerial meetings may not have been minuted, there was usually always a record of any ministerial decisions taken.
He said the fact that there was no minute of Arlene Foster's decision to opt for RHI over a cheaper upfront grant scheme had not been "reflective of the wider practice" in the civil service.
Mr Scoffield said the issue of what exactly Mr Sterling had, or had not said, had become "particularly contentious and sensitive".
The panel was also told the inquiry was aware of a letter sent by Mr Sterling to Stormont's Sinn Féin leader Michelle O'Neill about the issue, which had been published in the Irish News.
Mr Scoffield said it would be examined to see whether it was consistent with Mr Sterling's evidence to the inquiry.