Coleraine murder: Killer must serve 12 years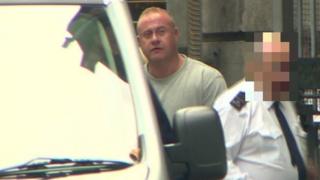 A County Down window cleaner who "repeatedly stamped'' on his victim's head must serve at least 12 years of his life sentence for murder.
Mark Anthony Lamont, 54, died after the attack in Coleraine, in 2016.
Richard Hugh Jackie Dalzell, of Whinpark Road in Newtownards, was due to go on trial last month accused of murdering Mr Lamont in October 2016.
But the 37-year-old was re-arraigned and admitted the charge as his trial was due to begin.
Belfast Crown Court was told about about the circumstances leading up to the murder.
The court heard Dalzell and a female friend had been in a bar in Coleraine on the evening of 25 September 2016 where Mr Lamont and two male friends were also present.
It was heard there had been a "verbal exchange" between Dalzell's female companion and the men with Mr Lamont - one of whom she had previously been in a relationship with.
The woman then left the bar with Dalzell and returned to a nearby house in Coleraine.
The court was told that by that stage, the pair had been drinking for nearly 12 hours.
Mark Lamont and his two male friends turned up at the house with their faces obscured by hooded tops and there was a stand off with the defendant.
The men were told to leave but Mr Lamont later returned alone and became involved in an altercation with Dalzell.
'Beyond what was reasonable'
A number of neighbours witnessed the confrontation and said they saw Dalzell "jumping up and down repeatedly on Mark Lamont's head".
The court was told witnesses said Dalzell was "putting a lot of effort into what he was doing" while the victim lay on the ground.
A neighbour told police Dalzell shouted: "You haven't seen anything, I'm in the UDA," before driving off in his car.
Mr Lamont was taken to hospital but died in October 2016 from his injuries.
At police interview, Dalzell told detectives: "It was a fight. You do these things in the heat of the moment.
"I won, I got the better of him. We had a fight, he lost."
Dalzell's defence counsel said Mr Lamont had entered the house of Dalzell's female friend as a trespasser with the "intention of assaulting the defendant".
The court was told Dalzell believed he had initially been acting in self defence, but accepted he had "gone beyond what was reasonable".
'Substantially provoked'
The barrister said Dalzell told police: "I didn't want to fight. He was trying to hit me and I wasn't going to let myself get hit. I was defending myself."
Defence counsel said Dalzell had expressed "remorse and guilt" and was "suffering from Post Traumatic Stress Disorder (PTSD)" following the murder.
The judge in the case, the judge said Dalzell had initially acted in self defence and had been "substantially provoked" by Mark Lamont returning to the property to confront him.
But he said Dalzell had gone "far beyond what could be described as self defence".
The judge added that victim impact reports from Mark Lamont's family on the "traumatic and unnecessary death" should make him understand "the damage" he has caused.
Mr Justice Colton said Dalzell should serve 12 years of his life sentence before he can be considered for parole.
Speaking outside court, Mr Lamont's son Karl Lamont said: "In my opinion life should mean life. We miss him every day.
"No sentence will take away the pain and the hurt this family has suffered over the past 18 months.
"It's now time to pick things up and move on as a family".