Ulster supporters won't protest over Jackson and Olding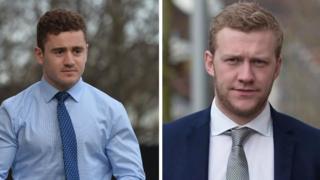 The Ulster Rugby Supporters Club has decided not to protest against the revoking of the contracts of Paddy Jackson and Stuart Olding.
There had been calls for protests at Ulster's next home game - against Glasgow at the Kingspan stadium in Belfast on Saturday.
Some fans suggested boycotting it.
Instead, the supporters club has decided to write to Ulster expressing their disappointment, rather than organise a protest.
The decision was reached after a survey was sent to members of the 900-member club.
While Mr Jackson and Mr Olding were both cleared of raping a woman in a trial that ended last month, there has been controversy about social media messages and texts they exchanged.
On Monday, Shane Logan, the chief executive of Ulster Rugby, said he could not envisage Mr Jackson or Mr Olding playing for Ulster or Ireland again.
In a statement on Wednesday, the URSC said: "The committee noted that whilst a third of members were appalled and wanted some form of protest, it was the committee's view that such action, whilst cathartic and no doubt headline-grabbing, would have little impact on the hierarchy of either the IRFU or Ulster Rugby.
"Protest would also likely adversely affect the remaining playing squad for the last crucial matches of the season and would be disrespectful to players like Tommy Bowe making their final home appearance.
"The URSC will therefore be writing to IRFU/Ulster Rugby next week to express members' considerable dissatisfaction and disgust at the recent turn of events."
'Grim period'
The supporters wished the two players well in their future careers.
The statement said: "This has been a grim period in Ulster Rugby's justifiably proud history. It has proved horribly divisive and distracting. Whilst some cannot forgive and others certainly won't forget, it's now time to move forward.
"URSC reiterates its call to supporters to stand as one with the team on Saturday.
"Finally, URSC notes that Paddy Jackson and Stuart Olding have apologised fulsomely for their behaviour which they have admitted was below acceptable standards.
"The URSC would like to thank the players for their on-field efforts for both Ulster and Ireland and wish them well in their rugby futures, wherever that may be."