Hooded Men: PSNI appeals against investigating 1971 case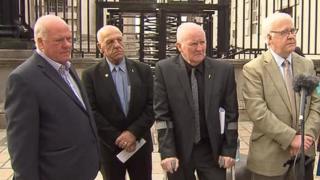 An appeal by the PSNI, which is fighting a ruling that it should investigate the so-called Hooded Men case, has begun at the Court of Appeal.
The Hooded Men are a group of 14 men who were interned during the Troubles and allege they were "tortured" by the Army during their detention in 1971.
In 2014, the Police Service of Northern Ireland decided there was not enough evidence to warrant an investigation.
But the PSNI's decision was quashed by a High Court ruling last October.
That ruling followed a legal challenge in the High Court by surviving members of the group, who want a fresh investigation into how they were treated.
'Nothing new'
The men have previously alleged that they were hooded and thrown to the ground from helicopters. The helicopters were near ground-level at the time, but the internees said they were made to believe they were hundreds of feet in the air.
They have also claimed they were subjected to torture techniques which included being deprived of food, water and sleep; being forced to listen to constant loud static noise; being forced to stand in a stress position and were beaten if they fell.
At Wednesday's Court of Appeal hearing, a barrister for the PSNI said there was "absolutely nothing new here".
He pointed to a number of official investigations in the past and said no new evidence is available.
The barrister added that the information is already a matter of public record.
'Shameful'
The Court of Appeal is sitting with three judges, chaired by the Lord Chief Justice Sir Declan Morgan.
Counsel for the PSNI said the chief constable's aim had been to review the evidence to see if an investigation was required.
The court was told that was stymied by the allegation that the chief constable was not sufficiently independent.
Amnesty International is supporting some of the surviving Hooded Men.
Its spokeswoman said it is "shameful" that these "torture" victims have been denied justice for nearly half a century.
In 1978, the European Court of Human Rights (ECHR) ruled that the UK state's treatment of the men amounted to inhuman and degrading treatment, but fell short of defining this as torture.
Four years ago, the Irish government began a lengthy process of asking the ECHR to revise the 1978 judgement and declare the men had been tortured.
Last month, ECHR judges rejected that request by six votes to one and said there was "no justification to revise the judgment".