Pair assaulted in Belfast bus lane camera attack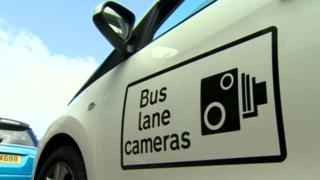 A man and woman have been assaulted during an attack on a bus lane camera vehicle in west Belfast.
Footage of the incident on the Falls Road shows a man stamping on the roof of the car, breaking the windscreen and trying to remove its mounted camera.
The woman who was inside the vehicle at the time was grabbed by the throat when she got out of the car, according to Belfast Live.
The suspect was then filmed fighting a man who pinned him to the ground.
'Damage'
The footage has been shared widely on social media.
The attack happened at about 16:00 BST on Tuesday in front of several bystanders and police are investigating.
"It was reported that damage was caused to the bonnet, roof and windscreen of a car, and a man and woman assaulted, by an unknown male," a PSNI spokesman said.
"Efforts are ongoing to identify the male involved."
Bus lane traffic restrictions were introduced in Belfast in June 2015 and are enforced by Stormont's Department for Infrastructure.
A Department for Infrastructure spokesperson said: "The Department strongly condemns this attack on NSL staff as they carry out their contractual requirements in relation to the Department's bus lane enforcement policies.
"The safety of staff in carrying out their work is a priority and this remains under continual review. Yesterday's incident is being investigated by the PSNI and we would encourage anyone with information to bring it to their attention."
It is the second attack on a bus lane camera in the same street inside a month.
On 20 March, it was reported that a man wearing a balaclava used a hammer to smash the windows of a bus lane camera vehicle parked on the Falls Road.