INM data breach 'significant threat' to press freedom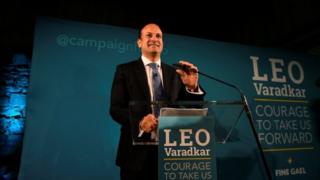 The taoiseach Leo Varadkar has described the data breach at Independent News and Media (INM) as a "significant threat to the freedom of the press."
Speaking in the Dáil Mr Varadkar said "the time has come" for new legislation to protect journalists' sources.
On Monday the Office of the Director of Corporate Enforcement (ODCE) sought a court order to appoint inspectors to INM.
INM have challenged that order.
At leaders questions Mr Varadkar said reporters must be able to pursue stories "free from any unjust interference - internal or external."
He said: "We need a plurality of voices in the media, we need to make sure these voices are not drowned out or silenced, and we also need diversity of ownership.
"I commend journalists who worked to report on this story, including journalists at Independent News and Media who haven't allowed their independence to be compromised."
Sinn Féin leader Mary Lou McDonald described the data breach as an "attack on the privacy and safety of journalists".
Ms McDonald said she believed there was an attempt to silence the ODCE at the High Court on Monday.
She said the Republic of Ireland has a reputation "as the wild west when it comes to tax avoidance and the prevalence of white collar crime".
"Companies should fear the ODCE and the consequences of data breach or any other unethical action," she added.
INM are seeking a judicial review to the ODCE's application to have corporate inspectors appointed to the company.
'Significant threat to the freedom of the press'
On Monday the High Court heard that Denis O'Brien, who is the largest shareholder in INM, wrote to the head of the ODCE, Ian Brennan, accusing him of leaking information about the data breaches.
Mr O'Brien said he would hold Mr Brennan "fully and personally responsible" for leaking information that Mr O'Brien claims is damaging to his reputation.
Mr Brennan and the ODCE rejected the allegation and informed Mr O'Brien that reports of the ODCE investigation appeared in the media only after documents were served on INM in March 2018.
The ODCE moved to appoint inspectors to INM following a protected disclosure made by former INM chief executive Robert Pitt.
It is understood Mr Pitt had concerns about the price INM was being asked to pay for Newstalk - the radio station is owned by Mr O'Brien's company Communicorp.
Mr O'Brien is the largest shareholder at INM.
Mr Pitt's opposition to the sale put him at odds with the INM chairman, Leslie Buckley, INM's chairman and a close associate of Denis O'Brien.
Robert Pitt is no longer with INM and Mr Buckley recently resigned as chairman.